Unique QR Code for Your Event
Each event receives a unique, event-specific QR (Quick Response) code to integrate into marketing materials and promotions. Scan the QR code with a smartphone or tablet, and it will link directly to your event's secure online registration form on GetMeRegistered.com.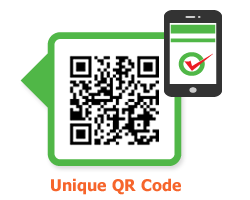 Print the QR Code on flyers and advertisements.
Add to your event promotional materials.
Potential registrants can scan this code with their smartphone or tablet, and they will be directed to your registration page.
Your unique, event-specific QR code can be accessed via the event's administration tools.

Our service team is ready to create online registration forms that reflect the specific needs of your event or organization. If you have questions, or an event to post, please contact the
GetMeRegistered.com service team.
---
When this page loaded, the official time was 6:43:00 PM EST.