Ride the River - Build-a-Tryke
33rd Annual Quad Cities Father's Day Bicycle Ride
in United States at Starting at the Quad City Times parking lot. Located at 500 East 3rd Street.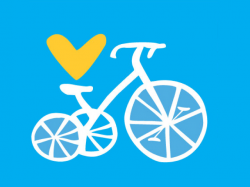 Ride the River - The 33rd Annual Quad Cities Riverfront Bicycle Ride
This is the last day for Early Bird Registration!
You can add a shirt to your registration on step 2!

Online registration is closed for this category.




---
| | | |
| --- | --- | --- |
| | | The Route: Open 7 am to 3:30 pm |
Plan your own ride! The basic route is marked on the map, but there are many optional trails and loops for rides of up to 60 miles with lots to see along the way. Begin at the Quad City
Times, Davenport, proceed to Leach Park, Bettendorf and cross the Mississippi River to Moline on the Celebration Belle. Return to Davenport via the Centennial or Arsenal Bridges (open until 3:30 pm). All total, you can trail-blaze through nine communities.
| | | |
| --- | --- | --- |
| | | River Crossing |
Riverboat Crossing
From Bettendorf, cross the Mississippi on riverboat while your bike goes on a barge. At the Illinois landing, grab your bike and continue your ride.

Return Crossing
For the return to Iowa you may use the Centennial Bridge or the Arsenal via the bike path.
| | | |
| --- | --- | --- |
| | | Helmets |
Helmets are STRONGLY suggested for all Ride the River participants. Helmets are REQUIRED for participants under 18 years of age. Helmets will be available for purchase at packet pick-up on Saturday, or on Sunday at the event, in the QC Times parking lot. Costs will be $5 for a child helmet or $10 for an Adult helmet while supplies last. Helmets are provided courtesy of the QC Bicycle Club.
| | | |
| --- | --- | --- |
| | | Build-a-Trike |
River Action is partnering with Mississippi Bend Trikes to help children with disabilities experience the joy of riding a bike. Mississippi Bend Trikes is our local chapter of National AMBUCS Inc. who is a nonprofit charitable organization with a diverse membership dedicated to creating mobility and independence for people with disabilities. Find out more at their Facebook page at www.facebook.com/Mississippi-Bend-Trykes-1004097936331929/

"The Build-a-Trike event will take place at packet pick-up on Saturday, June 17th, from 9 am to 1 pm in the QC Times parking lot at 500 East 3rd Street in Davenport. Come lend a hand! Bike Sponsors are:
US Bank[*]Kiwanis Club[*]Quad City Bicycle Club[*]Happy Joe's Kid's Foundation[*]Sear's Manufacturing
If you'd like to sponsor a bike to be built this year, contact River Action at (563) 322-2969.
| | | |
| --- | --- | --- |
| | | Questions? |
For more information email Noah Truesdell at ntruesdell@riveraction.org
---
When this page loaded, the official time was 5:04:14 PM EST.