Memorial Stair Climbing Challenge
in United States at Centennial Park in the heart of Hot Springs, SD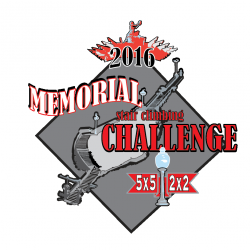 2K (2 Flights, 269 Steps)

Online registration is closed for this category.




---

5K (5 Flights, 657 Steps)

Online registration is closed for this category.




---
| | | |
| --- | --- | --- |
| | | Choose 5x5 or 2x2! |
Walk, run or stroll through downtown Hot Springs, in the glorious southern Black Hills of South Dakota. The 5x5 course covers 5K and all five scenic and historic staircases for a total of 657 steps. The 2x2 course covers 2K and two staircases. Both courses incorporate portions of the Hot Springs' winding river trail-the Freedom Trail.
| | | |
| --- | --- | --- |
| | | Fees and Freebies |
After May 15th: $25.00, shirt/award not guaranteed; if we get enough takers for shirts, we will order more and get one to you. (So far, we have always ordered more!)
Students: $15.00 any time,shirt/award not guaranteed; if we get enough takers for shirts, we will order more and get one to you. (So far, we have always ordered more!)
Community picnic following the Challenge: $6.00 for adults, $5.00 kids twelve and under, pay at the picnic.
Under 18?: Your parent or guardian will be required to sign a VA waiver on your behalf AT SIGN IN! Contact us at info@ChallengeHotSprings if this is not going to be convenient for you.
| | | |
| --- | --- | --- |
| | | Event Day Schedule |
10:00 am to 10:30 am: Sign-in and late registration
10:40 invocation & flag ceremony
10:50 warm up with Stachia
11:00 am: Shotgun start
Finish within two hours to earn your finisher's award!
12:30 pm: Community picnic-everyone welcome! Door prizes (everyone eligible/must be present to win) and grand prize (only Challenge participants eligible/need not be present to win.)
| | | |
| --- | --- | --- |
| | | What is a Challenge? |
The Memorial Stair Climbing Challenge is not a race, but a personal challenge to get strong! From beginners to athletes, the Memorial Challenge is for everyone!

Run, walk or stroll. Set a personal goal that suits your fitness level. Challenge yourself to go a little farther or a little faster this year.

You can personalize your challenge. Be creative! Carry a weighted backpack, firefighter gear, or your baby on your back. Have fun and get strong!
| | | |
| --- | --- | --- |
| | | Train for the Big One! |
The Memorial Challenge is a great training tool for the big stair climbing event in September! September 24th is the date for Climb Hot Springs, a seven mile race (and three mile fun run) sponsored by the Hot Springs Rotary. Save the date and get in shape by walking or running the Memorial Challenge!
| | | |
| --- | --- | --- |
| | | Two Choices! |
You asked, we answered. This year you have two tee shirt choices: For those who prefer a v-neck, we offer a high quality tri blend tee in unisex sizes (just like the 9-11 shirts from last year only in a v-neck). They are super soft technical shirts you will love! We also offer the standard men's crew neck, only in a soft style. Men and women will all love this comfy shirt.
| | | |
| --- | --- | --- |
| | | Community Picnic! |
This year the Boys & Girls Club will sponsor a community picnic beginning about 12:30. The cost will be $6.00 per person, $5.00 for kids 12 and under. Cheer on the runners as they complete the course and enjoy yummy food in the park with your friends, family and neighbors. Everyone is welcome!
| | | |
| --- | --- | --- |
| | | Under 18? Read about the VA waiver. |
All participants will be required to sign an additional Veterans Administration waiver at the event; online signature will not be accepted for this waiver. Participants under the age of 18 will need an adult signature on this waiver. Contact info@ChallengeHotSprings if this will not be convenient and we will work something out to accommodate your situation.
| | | |
| --- | --- | --- |
| | | Share Your Challenge |
This year we will have a board of some sort at sign-in, where you can share your challenge. Maybe your personal goal is simply to finish the course. Maybe you want to finish in a certain time, or just want to climb faster than you climbed last year. Maybe you plan to really push yourself by carrying extra weight. Last year, Jessica carried her toddler on her back the entire 5K course! But maybe your challenge is to take your time, to stop and smell the lilacs. Whatever your challenge, share it on the Challenge Board so that we can all cheer you on as you go for your goal!
| | | |
| --- | --- | --- |
| | | Are children welcome? |
Yes. Students 18 and under have a special price of just $15.00, right up to challenge day. Like the adults, they will not be guaranteed shirts or finisher award if they register after May 15th. Children under six are welcome to accompany parents or guardians, but be aware that this is not a "stroller friendly" course. Those stairs are steep!
| | | |
| --- | --- | --- |
| | | Pets |
Pets are welcome if they are on a leash and you follow all city ordinances. (So bring your poop bags please.) Be courteous and remember that not everyone likes to be kissed by your puppy. (I don't know why, but it's true.)
| | | |
| --- | --- | --- |
| | | Teams |
We have not yet put together any special program for teams, but we would love it if you initiated that on your own. Tell us what you want to see for team efforts next year. Share your team's goal on the Challenge Board on event day.
| | | |
| --- | --- | --- |
| | | Challenge Hot Springs |
Challenge Hot Springs is proud to be under the fiscal sponsorship of Black Hills Community Foundation. If you donate to Challenge, you will help fund our efforts to support active events in and around Hot Springs, especially new events and events associated with stair-climbing. Specifically, the donations you make on this site for Challenge will go to build our fund to repair and maintain the historic stairways in downtown Hot Springs!
| | | |
| --- | --- | --- |
| | | Awards |
Because Challenge is not a race, we will not have trophies. We will have finisher's awards for those who finish the course within two hours. We may have some gifts for those of you who do something special, and even if we don't, we will gift you with our undying admiration for your achievements. We hope to have a time clock, too, and those who finish first will be awarded with our undying admiration (and perhaps a bit of envy.)
| | | |
| --- | --- | --- |
| | | Why we do this! |
When we are strong individuals, our country is strengthened. When we are honorable, we demand honor from our leaders. When we are courageous, we bring courage to the nation.
On Memorial Day, we honor our nation's fallen soldiers by having the courage to get strong!
---
When this page loaded, the official time was 1:14:04 AM EDT.