Warrior Run: The Race For Life - Xavier University College Challenge
Wednesday, December 31, 2014
in Mariemont, OH at Bell Tower Park on Saturday, October 11, 2014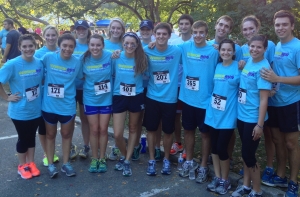 Welcome Students, Faculty and Staff to Xavier University's fundraising homepage for the Warrior Run College Challenge in memory of Brogan Dulle.

You can participate in the challenge three ways:

1. Run the Race on Saturday October 11! Go to the Warrior Run homepage and register by selecting the special College Challenge Rate;

2. You can Race AND fundraise for special programming on your campus that supports well being. Register HERE to fundraise (you can also just fundraise if you are unable to Race);

3. Commit to providing service with providers that support well being during Community Action Day (September 20) and report your hours to the Eigel Center (eigelctr@xavier.edu).
Xavier University College Challenge Members
$1.00 from Adetokunbo Okunoye
$10.00 from Kristin Strehle
$25.00 from Steve Fisher
$20.00 from Ellen Noonan
Kristin Clark
Jeremy Rieskamp
Cara Mastic
Brad Largent
Erin Hodges
Sonny Landis
Peter Reuss
Tim Cyron
Libby Maine
Rachel Glasmeier
Tia Shaw
Chloe Storm
$15.00 from Mirka Gallo
$5.00 from Ana Calvopina
Meagan Distler
Keirstin Heitman
Kayla Schutte
Bryce Heitman
Scott Woodnorth
$20.00 from Joe Wright
Sarah Senoyuit
Molly Dugan
Jorge Sanchez
Alberto Baco
$5.00 from Michelle Indelicato
Serenity Rowe
$5.00 from Elizabeth Hartsock
Madeline Dulle
Sarah Stabile
Kanosha Gray
Alison Price
Greg Mellor
Colleen Reynolds
Jessica Reynolds
Keith Klenowski
Leah Busam
Mark Shaffer
Ellie Parker
Ali Trianfo
Rebecca Hollis
$10.00 from Sybrand Swart
$10.00 from Kathleen Swart
$10.00 from Lauren Wood
Krista Brinker
Lauren Enderle
Benjamin Hastie
Maria Beebe
$15.00 from Whitney Pribble
Jenny Mendoza
Nick Henrichs
$25.00 from Christian Conway
Luke Turnier
Heather Couch
Kaitlyn Heil
Megan Gilbert
Jessica Hagen
Devan Thompson
Yin Wong
Sylvia Chemweno
Ruth Stout
Tara Scarborough
$50.00 from Sean Rhiney
$5.00 from Kelsey Waterhouse
$10.00 from Scott Hall
$10.00 from Michelle Hall
Laura Boesken
Xavier University College Challenge has raised $251.00.



If you are the owner of this homepage, please login to make changes. Use the username and password you created or used when you registered for the event associated with this homepage.