Wipe Out Kids' Cancer Oktoberfest Run for the Children - Brinker Team Eric
Friday, September 25, 2015
in Addison, TX at Addison Circle Park (4970 Addison Circle)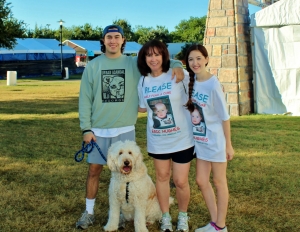 Thank you for registering for Brinker Team Eric!
You are supporting a wonderful cause and one that is near and dear to the hearts of many Brinker families and staff members. Our team name, Brinker Team Eric, is named in honor of Brinker teacher's Carol Hughes' son, Eric, who lost his battle to neuroblastoma in 1999. Ms. Hughes and her family and friends run in the WOKC race every year and are grateful of the strong support of Brinker staff and families.

In addition, Brinker Elementary is named after Maureen Connolly Brinker, who died of cancer. Her daughter, Cindy Brinker Simmons, founded WOKC, a Dallas-based non-profit in 1980. The mission of WOKC is to eradicate pediatric cancer by funding innovative research, education, and treatment.

So lace up your running shoes and get ready to make a difference!

*Packet Pick Up for Brinker will be on Tuesday, September 16th, 2:30-3:15PM in the front of the school.
Any questions, please contact Kelley Legg at wokc@brinkerpta.org
Contributors on Behalf of Brinker Team Eric
Payten Legg, Kelley Legg - 1 Mile Fun Run
Carra Cleaves, Connor Cleaves, Matt Cleaves, Rhonda Cleaves - 5K
Mackenzie Mize, Luke Mize, Matt Mize, Kisha Mize - 5K
Adam Fink, Ella Fink, Jeffrey Fink, Jennifer Fink - 5K
Ruhi Narayan, Rishabh Narayan, Ritu Narayan, Ravi Narayan - 1 Mile Fun Run
Lou & Bob Hughes - Make a Donation
Chandler Smith - 1 Mile Fun Run
Sydney Gabel, Hannah Davisson - 5K
Andrew Elmendorf, Julie Fajardo - 5K
Jon Lange, Barbara Lange - 5K
Philip Thompson, Sloan Thompson - 5K
James Duggan, Susan Duggan - 5K
Ethan Strauss - 5K
Amy Strauss - 1 Mile Fun Run
Nicki Purcell - 5K
Katie Gelfand - 5K
Jessa Adler - 1 Mile Fun Run
Madeline Ziegler - 5K
Nicole Burg - 1 Mile Fun Run
Abby Kissel - 1 Mile Fun Run
Lilian Quigley - 1 Mile Fun Run
Elizabeth Karesh - 1 Mile Fun Run
Jim Lovell - Virtual Runner
Courtney Watts - 5K
Kacy Young - 1 Mile Fun Run
Amy Chilcutt - 1 Mile Fun Run
Christina Stelzl - 1 Mile Fun Run
Kristen Key - 1 Mile Fun Run
Sallie Diamond - 5K
Maddy Ratliff - 1 Mile Fun Run
Riley LaCoume - 1 Mile Fun Run
Maddie Karesh - 1 Mile Fun Run
Mary Kate Fairley - 1 Mile Fun Run
Alex Pfeiffer - 1 Mile Fun Run
Carla McCraw - Virtual Runner
Susan Snowden - Virtual Runner
Tonya Griffith - Virtual Runner
Lana Bibby - Virtual Runner
Lynn McCulley - Virtual Runner
Christine Kane - Virtual Runner
Tracy Sievers - Virtual Runner
Deborah Conner - Virtual Runner
Joni Gigliotti - Virtual Runner
Connie Wiggins - Virtual Runner
Meghan Franzke - Make a Donation
Kathy & Lloyd Ekus - Make a Donation
Baohong Fiacco - Make a Donation
Julie Pascuzzi - Make a Donation
Christy Arizaga - Make a Donation
Jarrod Kimber, Karla Kimber, Kelly Fitzhugh, Jordan Kimber - 5K
Carol Hughes, Kailee Hughes - 1 Mile Fun Run
Chris Hughes, Ryan Hughes - 1 Mile Fun Run
Diane Roth, Bradley Roth - 5K
Sarah Kissel, Oliver Geheb, Phillip Geheb - 1 Mile Fun Run
Traci LePage, Scott LePage, Shannon LePage - 1 Mile Fun Run
Courtney Warner, Cindy Warner, Al Warner - 5K
Lusine Meeks, Arin M - 5K


Brinker Team Eric has raised $3,030.00.
Brinker Team Eric has a goal of raising $2,500.00.

progress: 121.20%

Brinker Team Eric is a sub-group of WOKC.


If you are the owner of this homepage, please login to make changes. Use the username and password you created or used when you registered for the event associated with this homepage.
---
When this page loaded, the official time was 2:43:00 PM EDT.