Cedar Rapids Run the Flood
in United States at downtown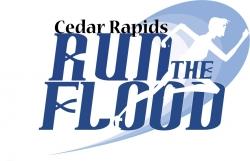 7 Mile Walk/Run
If you are participating as part of a team or company, you may enter your team name on Step 2.
T-shirts are not guaranteed for registrations after June 2nd.

Online registration is closed for this category.




---

5K Walk/Run
If you are participating as part of a team or company, you may enter your team name on Step 2.
T-shirts are not guaranteed for registrations after June 2nd.

Online registration is closed for this category.




---
| | | |
| --- | --- | --- |
| | | About the Organization |
In the spring of 2008, Cedar Rapids experienced the worst flooding in city's history. To help raise funds for flood recovery and to raise awareness for the rebuilding effort, a race was planned as part of the one-year anniversary commemoration. Called Cedar Rapids Run the Flood, the race route was designed to cover both business and residential areas, giving runners and walkers a firsthand look at the devastation that still remained and the rebuilding that had begun.

With the help of volunteers, sponsors, runners and walkers the inaugural Cedar Rapids Run the Flood was a success. In fact, based on the initial success, we've determined that the Run the Flood race will come back as an annual event to continue to raise money for flood recovery, and to continue to recognize both the progress our community has made and the hard work that still remains.

Please join us as we continue to rebuild, recover, and remember the flood of 2008. Whether you're a first time runner or a regular marathoner, this is chance to do more than win a race. This is an opportunity to run for your community, your business, your school, your neighbor, your friend, yourself. Together, we can make a difference.
To date, Run the Flood has donated over $100,000 for flood recovery.

Thank you all for your continued support!
| | | |
| --- | --- | --- |
| | | About the Event |
Courses/Race Type

Run the Flood offers 2 courses - a 7 mile course and a 5k course. Both courses weave through the downtown area of Cedar Rapids, giving participants a chance to see the recovery efforts and the work that remains from the flood.
Each participant has the opportunity to decide if he/she wants to be timed. The race is open to competitive racers, joggers, and walkers. Kids are encouraged to participate! Looking for a competitive race? Then sign up to be timed! Don't care about your time? Don't worry - no one will see or know your time but you!

Charity Partners

Proceeds from Run the Flood go to charity organizations that are aiding in the recovery effort or who were significantly impacted by the flood in 2008. Charity partners for 2012 are Henry Davidson Youth Center and Block by Block.

Volunteers
The event can't happen without the help of volunteers. Race organizers need help with packet pick up, course safety, set up, clean up and much more! Please visit the event website for full details regarding volunteer opportunities.
| | | |
| --- | --- | --- |
| | | More Information |
T-Shirts (size not guaranteed after 6/2)
A dri-fit tech shirt is available on Step 2 of the registration process for an extra $10.

All registrations final.
No refunds, cancellations, or transfers.

If you live, work, play, or volunteer in Cedar Rapids and would like to pledge your support for CR to become a Blue Zones community or would like to learn more about the Cedar Rapids Blue Zones initiative, please visit www.getactivecr.com.

Thank you.
| | | |
| --- | --- | --- |
| | | Connect |
Run the Flood is organized by volunteers. To contact a volunteer, email:

info@crruntheflood.com
afterparty@crruntheflood.com
logistics@crruntheflood.com
volunteer@crruntheflood.com
| | | |
| --- | --- | --- |
| | | Questions? |
---
When this page loaded, the official time was 7:08:26 AM EDT.