Big Ten Hoops Day 5K
in United States at Conseco Fieldhouse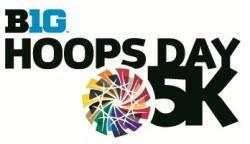 5K - Competitive (with timing tag)

Online registration is closed for this category.




---

5K Non-Competitive (no timing tag)

Online registration is closed for this category.




---
| | | |
| --- | --- | --- |
| | | About This Event |
MARCH IS ON! The third annual Big Ten Hoops Day 5K will take place on Championship Sunday of the Big Ten Men's Basketball Tournament. This event is open to all who like to run or even walk. You know who you are. So, whether you are a competitive or casual runner, a walker not afraid to push a stroller 3.1 miles, a Big Ten Alum looking to show your spirit or just someone who enjoys a good street party, you'll have a blast at the Big Ten Hoops Day 5K! Shoot some jumpers on Pennsylvania Street or play a little one-on-one to warm up for the race, which starts and finishes outside Conseco Fieldhouse. Hang with other Big Ten alum fans and don't forget to wear your school colors. You'll see the city as the race winds through the streets of downtown Indianapolis passing different Big Ten school-themed eateries and the city's greatest sports venues and attractions.
| | | |
| --- | --- | --- |
| | | Awards / Team Divisions |
The top 3 overall finishers (male and female) will receive prizes. No age group awards.

Do you have a connection to a Big Ten school? Do you have absolutely no connection to a Big Ten school but just like their colors or maybe their mascot? Or maybe your favorite aunt is from that school's state? Either way, be part of the Big Ten School Division - all ages are accepted - just select which school you would like to be affiliated with as part of the sign-up process.

The top-four finishers from each school's team (at least one being female) will count toward the total team score. Team scores are based on the total time of all four people added together.

A traveling trophy will be given to the local alumni association of the winning Big Ten institution along with a year's worth of bragging rights for all involved. Last year's winning team was PURDUE UNIVERSITY!

Prizes will also be given for categories such as 'The Most Spirited Fan', so be sure to wear your school colors.
| | | |
| --- | --- | --- |
| | | Youth Marathon |
Proceeds from the event fund programing for hundreds of youth involved in the Marathon in 51 Days. Fifth through eighth graders from select Indianapolis area schools will run a half mile each day for 50 days leading up to the Big Ten Hoops Day 5K. On the day of the event, a select group from each school will run the final 1.2 miles to the finish line to complete their full marathon. To find out how to get your child's school involved, please contact John Byers at john.byers@indianasportscorp.com.
| | | |
| --- | --- | --- |
| | | Packet Pick-Up/Late Registration |
You may pick up your packet or register on Friday, March 11 from 11am to 1pm at the Indianapolis City Market (222 E. Market Street). NOTE: In order to pick up your packet on Friday, you must be pre-registered by 5pm Thursday.

Race day packet pickup and late registration will take place at Conseco Fieldhouse from 9AM to 10:45AM. The 5K Run/walk starts at 11:00AM.
| | | |
| --- | --- | --- |
| | | Questions? |
Contact: Don Carr
Phone: 317-733-3300
Email: tuxbro@indy.rr.com
---
When this page loaded, the official time was 1:17:17 AM EDT.