Big Loser Contest
in United States at RunnersWorld Tulsa, 43rd and Peoria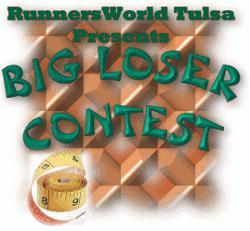 Individual Entry

Online registration is closed for this category.




---
| | | |
| --- | --- | --- |
| | | Contest Information |
Contest Starts Thursday January 21st at 6:30 pm

There will be two Orientation Meetings at RunnersWorld Tulsa that will explain more details about the program.
Meeting dates are:



Monday, January 11th at 6pm

Thursday, January 14th at 7pm


Each entrant will throw $25 into the Loser Pool.

All money will go towards weekly & grand cash prizes.

$2 penalty will be charged for any weight gain.

50% of entry fees will go towards top five weekly winners.
50% of fees towards grand prize winners.

Money will be distributed as follows:



1st Place - 40%

2nd Place - 30%

3rd Place - 20%

4th Place - 10%

| | | |
| --- | --- | --- |
| | | Contest Rules |


Weigh-Ins will be every Thursday at 6:30pm

Alternate weigh-ins will be any time on Thursday from 10am - 7:30 pm

Absolutely no "official" weigh-ins other than Thursdays
Contestants can use the bathroom, take of any clothing, shoes, empty pockets etc.

Contestants cannot wear excessive clothing, jewelry, etc. on the FIRST weigh-in.

Two types of scales will be used for official weigh ins: A Conair Thinner brand electronic scale and a Detecto Physicians Scale.

Contestants must weigh-in on the current and previous week to be eligible for weekly prizes

Participants' "Before" pictures will be taken. "After" pictures will be taken upon request.

Entrants' actual weight will never be published. Weigh-ins will be discrete.

Chatroom will be set up to share recipes, and to motivate each other.

| | | |
| --- | --- | --- |
| | | Questions? |
---
When this page loaded, the official time was 5:38:04 AM EDT.