Grove City Athletics Club
in Grove City, PA at Grove City Borough Bike Trail (end of Greenwood Drive)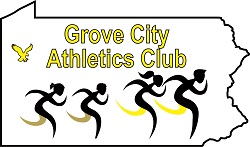 | | | |
| --- | --- | --- |
| | | Mission Statement |
The mission of the Grove City Athletics Club (GCAC) is to motivate and facilitate life-long physical activity through inspiring a joy for running/walking, track and field, and other forms of physical activity within the Grove City, PA and area community.
| | | |
| --- | --- | --- |
| | | Benefits of Joining GCAC |
FREE Group Training Runs (any age)

FREE Group Speed/Track Workouts (any age)

Youth Running Programs

Support Youth & Adult Fitness in the Grove City Area

Support Elementary Running in the Grove City Area

Support Local Youth Scholarships

FREE Informal Coaching/Consulting at Training Runs

Club-sponsored Relay Race Opportunities

Club Updates

Periodic Running/Fitness/Nutrition/Health Seminars and "Learn by Doing" Clinics by Local Experienced Experts (e.g., Local Coaches, University Professors, Physicians, Exercise Physiologists, Boston Marathon Qualifiers, etc.)

Discounts (when available)

Road Runners Club of America (RRCA) Membership and accompanying benefits (http://www.rrca.org/membership/member-benefits)
| | | |
| --- | --- | --- |
| | | GCAC Events/Programs |
Weekly Evening "Speed/Track Workout"

Saturday Morning Runs [-] Grove City Borough Bike Trail (end of Greenwood Drive)

Sunday Morning Runs [-] Grove City Memorial Park (park near basketball courts/pool)

Elementary Cross Country Program - Practices & Races (not required) " Summer/Fall

Elementary Track Program

"Old Trophies" Community Track Meet

Community Cross Country Relay Race (3 x 1.5mi) [-] Spring/Summer

Local races with youth races? (e.g., Ice Cream Race)

SRU "Learn by Doing" Athlete/Coach Track Clinic (2nd Sunday in January)

SRU "All-Comer" Indoor Track Meets (~1st Sunday in Jan. & 2nd Sunday in Feb.)
www.rockathletics.com/sports/2009/8/27/MIT_0827093045.aspx

Grove City Athletics Club Male & Female Scholarships
| | | |
| --- | --- | --- |
| | | Questions? |
For membership-related questions, please click on the *Contact the Organizers* button on the left-hand side of this page.
---
When this page loaded, the official time was 7:53:31 AM EDT.