Indiana Women's Trail Run
Saturday, July 7, 2018 in Indianapolis, IN at Eagle Creek Park (East Side)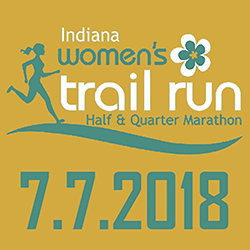 * Click here for fee information
| | | |
| --- | --- | --- |
| | | Event Details |
Where is packet pickup and I check in?
Friday July 6, 2018 at The Flying Cupcake from 4:00 pm to 8:00 pm (we strongly encourage you to pick up here). Their location is 831 S Rangeline Rd #300, Carmel, IN 46032.
Race day packet pick up 7:00am to 7:45am at Eagle Creek Park.

Where do I park and what time do the gates open at Eagles Creek?
The gates will open at 7:00am for everyone and parking will be in a couple places. Eagle Creek address is: 7840 W 56th St, Indianapolis, IN 46278

Where do I go after I park?
Race day registration and packet pick-up will be near the starting line and are open from 7:15am to 7:45am.

Is there a cut off time for the Half Marathon?
We allow a generous 18 minute pace per mile for our event. If you are considering the half marathon please know that we require that your first loop be completed by 10:00 am. Our race begins at 8:00 am That gives you 2 hours to complete the first loop. If you are a half marathon participant and you finish the first loop after that time you will politely be asked to cross the finish line.

Are men allowed to register?
This is a womenís only race but we would welcome any men who want to register to volunteer.

Will there be photos taken of me along the course?
Several volunteers will be onsite taking photos of participants throughout the course. However, we canít guarantee that the photographers will capture every awesome moment.

Are dogs allowed on the course during the competition?
No. But to be fair we donít allow cats either.

What about Restrooms?
There will be 3-4 port-a-pots close to the starting line plus 2 hand washing stations at the finish area along with regular park bathrooms close to the beach area. There is also a port-a-pot close to the aid station at mile 3.

What are the course details?
Course maps will be available on our website.

Am I guaranteed a shirt when I register?
In order to be guaranteed a shirt registration needs to be completed by midnight June 28th. All who register after June 28th midnight will not get a shirt but will get a beautiful custom medal and a Flying Cupcake.

Event may be cancelled or delayed due to weather or other emergencies. No Refunds.
| | | |
| --- | --- | --- |
| | | Packet Pick Up |
Packet pick up will be Friday July 6th from 4pm - 8pm. Location is to be identified at a later date.

There will also be packet pick up race morning from 7:00 am to 7:45 am at Eagle Creek Park
| | | |
| --- | --- | --- |
| | | Race Day Registration |
Packet pickup and Race day registration 7:00 am to 7:45 am at Eagle Creek Park (east side):
$75.00 - half marathon
$65.00 - quarter marathon
| | | |
| --- | --- | --- |
| | | Awards |
*First place overall half wins $100., second $75., third $50
*First place overall quarter wins $100., second $75., third $50.

This will be a timed and scored event.
| | | |
| --- | --- | --- |
| | | Questions? |
For event-related questions, please click on the "Contact the Organizers" button on the left-hand side of this page.
---
When this page loaded, the official time was 5:30:01 AM EDT.