25th Annual Bisbee 1000 Ironman Ice Competition
presented by Bisbee Vogue, Inc.
in United States at In front of Bisbee Vogue Inc. and its Bisbee Ironman Suite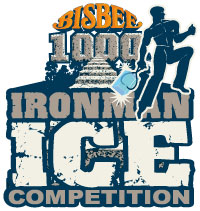 Individual

Online registration is closed for this category.




---
| | | |
| --- | --- | --- |
| | | Event Details |
Another opportunity to test your grit (and your sanity!); Event is immediately after Bisbee 1000 The Great Stair Climb, with Regular and Fire & Ice Full Gear Public Safety Divisions! Extreme Sport! Cash Prizes! Competitors grab a 10# block of ice in a pair of antique tongs, sprint up 155 stairs, dash across a trail, zoom down a steep winding road to an exhilarating finish. Approx. 1⁄4-mile total. Register now at Bisbee1000.org, or register day-of-event. Presented by the 501c3, Bisbee Vogue, Inc. Meet Your Ultimate Challenge!

Ironman Ice Competition
Saturday, October 20th, 2018
11 a.m. to 2 p.m.

Location: Bisbee 1000 Start/Finish: 201 Tombstone Canyon Road, Bisbee, AZ 85603

Grueling 1/4-mile course in which you'll carry a 10 pound block of ice up 155 stairs, run across a trail to a winding road, then hang on tight for a steep downhill finish. This is an extreme sport for the physically fit.

Fire & Ice Challenge for public safety in full turn out gear, including firefighters!

Registration also open at 10:30 am in-person day-of-event, at the event.

Both Regular and Fire & Ice Divisions compete for Cash Prizes!
| | | |
| --- | --- | --- |
| | | Questions? |
For event-related questions, please click on the *Contact the Organizers* button on the left-hand side of this page.
---
When this page loaded, the official time was 2:24:55 PM EDT.