The TWISTED TWIG Mountain Bike Race/Ride at Bonnybrook Farms
Saturday, June 17, 2017 in Clarksville, OH at Bonnybrook Farms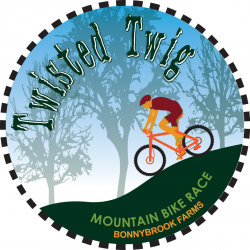 * Click here for fee information
| | | |
| --- | --- | --- |
| | | The TWISTED TWIG Mountain Bike Race/Ride |
Location: Bonnybrook Farms, 3779 State Route 132, Clarksville, OH 45113

Date & Time: Saturday, June 17, 2017 7:30 am - 2:00 pm

Type of Bikes accepted: Any mountain bike is welcome, old or new. Suspension is optional. CX/Cross bikes can be used though there's not a "cross" category. One note, there are some soft spots on the course and wider tires are a plus. If you don't have a MTB start begging and borrowing, someone may have one they aren't using.
| | | |
| --- | --- | --- |
| | | Online Pre-Registered Riders |
Online Pre-Registered Riders receive race entry, pre-course ride, Twisted Twig Shirt, race swag and a sack lunch from the Farm Kitchen.

After registration, download the Twisted Twig Race Day Rules and Waiver, print, sign and bring to the registration table on race day.

Bottled water available for racers/riders and their families. Farm Kitchen open from 8 am until 2 pm. No food or drink to be carried in. No pets.

No refunds will be given. The Twisted Twig Bike Race will take place rain or shine.
| | | |
| --- | --- | --- |
| | | Schedule |
Race Day

7:30 Gates open (free admission includes Fun on the Farm Activities
and Petting Animals)

7:45 am Check-in begins at the race tent

Online and Same Day Registrants:
- Check-in.
- Turn in signed waiver. Download The Twisted Twig Race Day Rules and Waiver, print, sign and bring to the registration table and the check-in will go much quicker.
- Verify class number and pick up your color tag, T-Shirt and meal ticket (if on-line registered)

Race Schedule
We reserve the right to combine or change class size and/or schedule as necessary.
- 7:45 - 8:20 am: Pre-course ride
- 8:30 am Classes begin - rain or shine. Classes will run in order. Some classes may be combined. Riders and families can enjoy free "Fun on the Farm" activities while waiting for their Class.
- 8:00 am - 2:00 pm Farm Kitchen open (Cash only)
- Noon - Antique Tractors arrive
| | | |
| --- | --- | --- |
| | | Rules |
Have Fun!
Helmets are mandatory and must be worn whenever rider is on bike. No exceptions!

Bikes must be walked thru the parking lot, roadways and anywhere near pedestrians. No riders on driveways. Racers/riders must stay in the restricted riding area.

No headphones, earphones or MP3 players while on the course.

During races, the course is closed to racers not in the active race category.


Course Etiquette/ Sportsmanship/Conduct

Courses may be marked with arrows, colored tape or flags, cones or signs. Volunteers in safety vests are on course to help you if needed.
Slower riders stay to right of course.
If you need to walk a section of course quickly look behind you, and if safe, move immediately to the right side of course.

Where safe, yield to faster riders coming from behind.

Faster riders announce yourselves - "Rider Right", "Rider Left", etc.

Stay to the right side of a divided trail marked with arrows, colored tape or flags, cones or signs to avoid collisions.

Passing in tight, technical or gravelly sections use good judgment - do not put other riders or yourself in danger.
Foul riding, use of foul language towards other riders/staff will result in disciplinary action as determined by race management.

Racers must start in their assigned class.

Short cuts result in disqualification from the race. If you leave the course, re-enter where you left.

Racers must complete assigned laps

Racers are permitted support. Racers may leave the course for repairs, but must return to the exact location where they left.

The Finish Line

Racers must cross the finish line with their bike. Slow down after the finish and STAY IN ORDER until your number is recorded at the scoring table. Racers will be placed in 1st, 2nd and 3rd place as they cross the finish line. No passing in finish chute! Once your color tag is recorded move out of the finish chute area.

After the Race

Award Ceremonies will commence at Twisted Twig race tent at 11:30 am with awardss for the top three finishers in each class.

What to Expect at your First Mountain Bike Race

Here are a few tips to help you enter your first race with some confidence:
1. More often than not, YOU are in control of your own destiny. The majority of the race you ride single file on a single track. The terrain usually splits the field up pretty quickly.

2. Pre-ride the course if possible. Knowing what to expect is HUGE for race success. Note the more difficult areas. Also, if there is a section that you know you cannot ride, plan to get off and walk during the race rather than trying to ride it.

3. Don't feel confident riding a portion of the trail? Fine, walk it! Want to go slower? That's great, you are still beating everyone not riding. Mountain bikers are generally a pretty nice bunch and will be very welcoming and encouraging to beginners.

4. Races generally start on an open section prior to entering the single track. Faster riders try to get to the front of the race early!

5. Passing can be tricky, but don't be afraid of it. If you want to pass someone, let the person in front of you know your intentions. Also, be aware of people behind you that want to pass and listen for them letting you know. In either situation, the person being passed should pull over to the side of the trail when there is an opportunity to do so. Sometimes the person passing will say something such as "on your left." Both parties can stay on their bikes but just move to opposite sides of the trail, and hardly any time is lost. Sometimes it can be hard to move over, depending on the trail, so make sure your intentions are well known whether passing or being passed. Communication is the key to a safe and timely pass.

6. Have fun! Even if you aren't at the front of your race, take the opportunity to work on skills and gain confidence. There are always many races within a race, whether you're battling for first or second to last, just keep pushing! The beauty of mountain bike racing is that you don't have to be winning a race for it to be successful; every race is an opportunity to work on skills, gain confidence, and enjoy a variety of trails in pristine shape.
| | | |
| --- | --- | --- |
| | | Questions? |
For event-related questions, please click on the *Contact the Organizers* button on the left-hand side of this page.
---
When this page loaded, the official time was 2:59:50 AM EDT.