Get to the Point Half Marathon and 5K Fun Run/Walk
in United States at Hometowne Inn, Exit 18 off I-29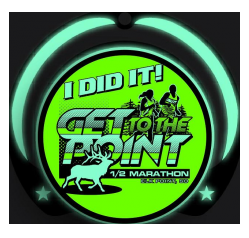 5K Run/Walk
A dry-fit shirt is included with your registration through 8AM on 9/7. Shirts are first come first served day of event.

Online registration is closed for this category.




---

Email Marketing

Online registration is closed for this category.




---

Half Marathon Run/Walk
Walkers start at 8:15 am
Runners start at 8:30 am
Must be 16 and up to enter the half marathon.
A dry-fit shirt is included with your registration through 8AM on 9/7. Shirts are first come first served day of event.

Online registration is closed for this category.




---

Youth Fun Run
2 groups:
ages 5-8
ages 9-12
One parent can run with their child for free
Youth will be walked out to their starting lines and accompanied by volunteers. The youth entry includes the food after they finish, additional meals are $5 each.

Online registration is closed for this category.




---
| | | |
| --- | --- | --- |
| | | Our Mission |
We would like to welcome you to the Get to the Point Half Marathon, 5K and Kid's run in Elk Point, SD. on Saturday, September 30th, 2017.. Runners from Oklahoma, Florida, Idaho, and many of the Midwestern states have participated,We had an entry from New Zealand in 2016. and we plan another great race this year. Walkin's same day are always welcome.

Enter soon -- we give a great discount compared to many races, and the earlier the entry, the better the deal!

Thanks - and we look forward to seeing you at Get to the Point events!

Walk in's are welcome.
| | | |
| --- | --- | --- |
| | | Course |
We will have all registration and check in at Hometowne Inn, exit 18 off I-29, then about 300 feet from the exit ramp on the north side.

All parking will be on the north side of the road.

The course is flat and goes west 5.4 miles, then angles southeast, and loops back to the north, and we have water and Gatorade stations along the route.

Spotters and vehicles are out until everyone is back in, and it is well marked.

Volunteers will help direct parking, and the food will also be at Hometowne Inn, so it's only 100 feet from the finish line to the pizza, bagels, candy, pop, water, gatorade and other beverages.

Registration starts about 7:20 am, the half walkers leave 8:15 am, the runners leave 8:30 am, and the 5k leave at 8:45 am.

Spotters and vehicles are out until everyone is back in, and it is well marked.

Youth Fun Run
Volunteers will help the youth out to the start line, and go with them as they come in.
A waiver will be signed by all parents for youth entered on race day.  
| | | |
| --- | --- | --- |
| | | Post Race Party |
We also will have fresh, hot pizza, bagels, pop, milk, candy and other refreshments for all of you who enter.
| | | |
| --- | --- | --- |
| | | Charity |
All proceeds support the local Clay-Union foundation, Inc., and it's scholarship and community fund. All proceeds help support community service scholarships at 3 local schools. We also donate to the backpack program in 2 schools.
| | | |
| --- | --- | --- |
| | | Awards |
Half marathon entries include a dri-fit shirt, finisher medal, and food/beverages.Age div. ribbons also given.
(Note: The half marathon is a timed event.)

Age division ribbons also will be given out.

Age groups: under 19, 19-29, 30-39, 40-49, 50-59, 60-69, 70 and up.


5K entries will receive a dri-fit shirt, and food/beverages after they return.
It's just a great way for fellow runners to get together.
(Note: The 5K is a timed event.)

Shirts guaranteed for both until Sept.9th at 10 AM-then first come basis day of the event.We will do the best we can to fill shirts after Sept. 9th.

Surplus will be for sale at the event. Help us by purchasing several.
| | | |
| --- | --- | --- |
| | | Accomodations |
Need a motel?

The Hometowne Inn is less than 50 yards from the start/finish line in Elk Point, SD.

Hometowne Inn:
Reserve a room by calling 605-356-2667. Reasonable rooms rates.
Exit 18 off I-29 then east about 400 feet on the north side.
| | | |
| --- | --- | --- |
| | | Questions? |
For event-related questions, please click on the *Contact the Organizers* button on the left-hand side of this page.
---
When this page loaded, the official time was 6:46:13 AM EDT.