The Traveler 10K Trail Run
in United States at Skokomish Park Lake Cushman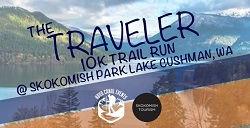 10K Trail Run
You must be 9 years or older on the day of the event to register.

Online registration is closed for this category.




---
| | | |
| --- | --- | --- |
| | | Event Details |
The Traveler 10K Trail Run celebrates the fall season and outdoor recreational opportunities at Skokomish Park Lake Cushman, WA. in the Olympic National Forest. Skokomish Park Lake Cushman, formerly know as Camp Cushman or Lake Cushman State Park, covers over 500 acres with three boat-launch ramps on the 41,500 feet of freshwater shoreline on Lake Cushman. Bordered by a spectacular Olympic Mountain ridgeline, the event space provides a unique opportunity to promote local Hood Canal business/organizations, food and Pacific Northwest recreation.

What is it like to #BeTheTraveler on The Traveler 10K Trail Run? When you participate in the Traveler 10K Trail Run you embrace the Hood Canal experience and the spirit of collaboration. Hood Canal Events is happy to be featuring the very best in local recreation, events, food, business/organizations and the undeniable beauty of the Pacific Northwest. The Traveler 10K Trail Run embodies our "No Traveler Left Behind" motto - offering something for travelers from all walks of life while delivering a sense of accomplishment and teamwork for participants.

The object of the course is not a "timed race," but rather a cooperative goal, as teams of travelers complete the 10 obstacles scattered over the 6.2 mile non-timed course. The Traveler groups will be organized in 8-person teams that will have staggered start times. Each team will depart the starting line in 15-minute increments beginning at 9am, with the last group starting at 5pm. The Traveler 10K Trail Run is designed for individuals, families and teams off all fitness levels to participant in a healthy enjoyable outdoor activity in one of the most beautiful regions of the world. Again, the focus of this run is cooperation and teamwork with fellow travelers, and the goal is to have "No Traveler Left Behind." Prize offerings for best individuals/teams and craziest costume themes will be awarded and an awesome Pacific Northwest experience discovering how to #BeTheTraveler is guaranteed to be had by all.
| | | |
| --- | --- | --- |
| | | Proceeds |
$3 from each participant registration will be donated to Washington's Nation Park Fun and it's mission - "to raise private support to deepen the public's love for, understanding of, and experiences in Mt. Rainer, North Cascades and Olympic National Park."
| | | |
| --- | --- | --- |
| | | SWAG |
All registered participants will receive a Traveler 10k Trail Run T-shirt, swag bag, and complimentary beer and BBQ to celebrate their achievement after completing the run! T-shirts must be preordered with registration by September 30, 2016. The Traveler 10K Trail Run $45/pp early registration ends August 31, 2016 and entry will increase to $60/pp until race day on October 15, 2016. With registration, $3 from every participant will be donated to the National Park Fund and it's mission - "raise private support to deepen the public's love for, understanding of, and experiences in Mt. Rainer, North Cascades and Olympic National Park."
| | | |
| --- | --- | --- |
| | | Packet Pickup |
Early packet pick-up will be available on Friday October 14, 2016 at the Hood Canal Events office. Packet pick-up is also available on Saturday October 15, 2016 - we need all travelers to arrive and check in 45-minuets prior to your teams scheduled race time. Early packet pick up is encouraged for registered participants to avoid race day congestion - our office is located at 6871 E State Route 106, Union, WA. 98592. If you are unable to grab your packet early it's no problem! Packets will be available on the day of the race October 15, 2016 and your team must register and check in a minimum of 45-minutes prior to your start.
| | | |
| --- | --- | --- |
| | | Course Information |
The course meanders through well cared for trails along Lake Cushman (see route map). Participants enjoy a gentle terrain with a few rolling hills and the run will be broken up by 10 obstacles dispersed over the 6.2 mile course. After team check in, your team will be taken for a light cardiovascular warm up and stretching to get your body ready to perform its best. Once the run begins you'll reach obstacles sponsored by local area business and receive support from the cheers of their staff and the participant friends and family.
| | | |
| --- | --- | --- |
| | | Obstacles |
The 10 course obstacles are listed below - remember there are only 10 course sponsorship spaces available, contact us today to secure your organizations presence at the event, info@hoodcanalevents.com!


The Pack Mule - participants must carry a 50lb sandbag 25'

Quick Feet - participants must negotiate over 10 tires

The Tubes - participants must crawl through three 5' tubes

Up and Over - participants must climb up and over two 15' walls

Low Crawl - participants must low crawl 15' under wire

The Pit - participants must trudge 15' through a mud pit

The Ninja - participants must bounce between slanted platforms (1 foot per wall)

Tarzan's Swing - participants must grab the rope and swing over two 7' mud pits

Monkey Madness - participants must negotiate the 12' span of monkey bars over a mud pit

The Fire Jump - participants must jump over a 1' fire burning trench


Throughout the course there will be 4 hosted water aid and snack stations to ensure participant hydration, nutrition and safety. As you're crossing the finishing line be sure to grab your picture from Terrence Allison Photography and enjoy the areas best BBQ and beer provided by Wild and Woodsy Catering. Meet other travelers and enjoy music, prizes for best individual/team and costumes, jump in Lake Cushman to rinse off and take in your surroundings while enjoying your team's achievement of "No Traveler Left Behind!"
| | | |
| --- | --- | --- |
| | | Lodging and accomodations are available! |
Hood Canal Events offers a book of accommodations that are perfect for your Hood Canal getaway, please visit hoodcanalevents.com and select our Accommodations tab to view the properties. In addition, Skokomish Park at Lake Cushman offers 34 RV sites and 60 campsites for travelers coming to the area for The Traveler 10K Trail Run event and there are hotel and cabins available at both Glen Ayr Resort, glenayr.com and the cabins located at Waterfront at Potlatch Resort, www.wfresort.com.
| | | |
| --- | --- | --- |
| | | Questions? |
For event-related questions, please click on the *Contact the Organizers* button on the left-hand side of this page
---
When this page loaded, the official time was 4:04:26 PM EST.