Lovin' Lincoln 5K, 10K, and Family Fun Run
in United States at 110 SE Alexander Avenue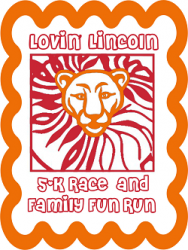 5K Run/Walk - Individual
Shirts can be added to your registration on step 2 for $15. If you register after 5/7, you will need to pick up your T-shirt in the Lincoln office the follollowing week.

Online registration is closed for this category.




---

10K Run/Walk - Individual
Shirts can be added to your registration on step 2 for $15. If you register after 5/7, you will need to pick up your T-shirt in the Lincoln office the follollowing week.

Online registration is closed for this category.




---

Family Fun Run .25 mile - Family (3+ people)

Online registration is closed for this category.




---

Family Fun Run - Individual

Online registration is closed for this category.




---
| | | |
| --- | --- | --- |
| | | Event Information |
5th Annual Lovin' Lincoln 5-K Race and Family Fun Run

Date: Saturday, May 21st.

Time:
9:45 AM - 10K
10:00 AM - 5K
11:00 AM - Family Fun Run

Runners need to be in the holding area 15 minutes before their starting times.

The beautiful, mostly flat 5-K and 10-K courses start at Lincoln school and head into the Lincoln neighborhood before connecting to the trail system in Willamette Park.  After a foot bridge crossing and short stair climb, runners head back into the Lincoln neighborhood and finish their race on the Lincoln soccer field. Registration and the start/finish are located at the rear of Lincoln Elementary adjacent to the playground at 110 SE Alexander Ave.

For the safety of everyone, no dogs, bicycles, or roller skates/blades will be allowed in the run. Strollers allowed in the 5-K at the discretion of each participant as the stroller will have to be maneuvered up a series of stairs mid-race.


On-line registration closes May 19th at midnight. On-site registration will be available on race day.
| | | |
| --- | --- | --- |
| | | Packet Pickup |
Packets can be picked up the morning of the race beginning at 9:00 a.m. at 110 SE Alexander Avenue, Corvallis, Oregon.

Your packet includes your race number and a course map.
| | | |
| --- | --- | --- |
| | | About Lovin' Lincoln |
The fifth annual Lovin' Lincoln 5-K Race and Family Fun Run will take place in South Corvallis in conjunction with the Lincoln Carnival. Not only does this race showcase Lincoln Elementary's strong commitment to fitness and student wellness, it also represents the diversity of the school, as the race is sure to draw runners of every age, race and ability.
The race will finish as the 8th Annual Lincoln Carnival kicks off, so bring your family and stay the afternoon. In addition to the run, this fun-filled multicultural day of celebration will feature music, dance, live entertainment by Lincoln students and local cultural groups, games and activities for children and families, a community resource fair, prizes, an auction and food from local businesses.
Lovin' Lincoln 10K, 5-K Race and Family Fun Run and Lincoln Carnival are put on by the Lincoln Parent Teacher Association. Proceeds from the race and the Carnival will directly support the students, teachers and programs at Lincoln School. This past year, the PTA funded field trips for every student, kept a snack closet filled so teachers did not have to buy food with their own money, and provided enrichment supplies for each classroom.
| | | |
| --- | --- | --- |
| | | T-Shirts |
Lovin' Lincoln Race t-shirts are available with registration ($25 for registration with shirt). Shirts can also be ordered on race day for $15!
| | | |
| --- | --- | --- |
| | | Awards |
An award will be given to the top three male and female finishers in each event. The first place runner in each age and gender category will receive an award.
| | | |
| --- | --- | --- |
| | | Proceeds |
All proceeds from the Lovin' Lincoln 10-K Race, 5-K Race and Family Fun Run will go directly to the Lincoln Elementary PTO. Thank you for Lovin' Lincoln!

To learn more about LIncoln Elementary, visit
schools.csd509j.net/lincoln/

Like "Lincoln Elementary Corvallis Family & Friends" on Facebook!
| | | |
| --- | --- | --- |
| | | Thank you Sponsors! |
Lincoln Elementary was on of two elementary schools in the state to receive the 2014 Oregon School Wellness Award! This is an award bestowed by the Oregon Department of Education. Deputy Superintendent Rob Saxton said, "Student health and student learning are inextricably linked. These schools understand that vital connection and have created school environments that support and encourage student, staff, and family health through a focus on good nutrition, physical activity, and overall wellness. I want to congratulate [the recipient schools] for this well-deserved recognition." Sponsoring the Lovin' Lincoln 5-K Race3 and Family Run Run is a great way to support the continued growth and development of the students and community at Lincoln School.

Thank you for your support!

A fun and healthy community event to support the Lincoln Elementary PTO
| | | |
| --- | --- | --- |
| | | Questions? |
For event-related questions, please click on the *Contact the Organizers* button on the left-hand side of this page.
---
When this page loaded, the official time was 8:16:02 AM EDT.