Palo Fire Department Jog & Jam, 4 Mile Event
in United States at Zeller Memorial Park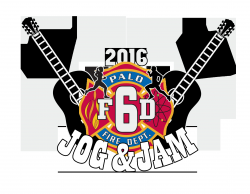 4 Mile Run/Walk

Online registration is closed for this category.




---

Donation Only
This is not a race entry

Online registration is closed for this category.




---
| | | |
| --- | --- | --- |
| | | The Jog |
An evening race with entertainment! Take advantage of the night atmosphere and unique race distance.

Date:
Saturday, June 25th, 2016

Hosted by:
West Linn Community Group

Event Location:
Zeller Memorial Park
1st Street, Palo, IA
| | | |
| --- | --- | --- |
| | | The Jam |
No Fences

A Jackson County band playing great Country Rock!

www.facebook.com/n0fences/?fref=ts




NOT A RUNNER? If running is not your thing, just show up for the Jam! No one will judge! Show up, have a good time, show your support.
| | | |
| --- | --- | --- |
| | | Age Divisions and Awards |
Age Division by gender: Overall, 18 & Under, 19-29, 30-39, 40-49, 50-59, 60 & Over.

Awards: The top performer in each age group will receive an unique gift from the Palo Fire Department. In addition to that, Overall winners will receive $50 to Brogan's Pub & Grub.
| | | |
| --- | --- | --- |
| | | Race Route |
| | | |
| --- | --- | --- |
| | | Schedule |
5:30 PM
-Packet Pickup & Jog Registration opens
-Beer Tent opens

6:45 PM
-Packet Pickup & Jog Registration closes

7:00 PM
-The Jog starts
-The Jam begins

7:30 PM

8:00 PM

11:00 PM

Midnight


The splash pad & park will remain open during the event.
| | | |
| --- | --- | --- |
| | | Thank you to our sponsors! |
| | | |
| --- | --- | --- |
| | | WLCG |
The West Linn Community Group (WLCG) is dedicated to developing and improving the quality of life for the area communities by providing opportunities to the evolving social, economic, and cultural needs.

As members of the West Linn Community Group, we are committed to serving the greater good of the community through:

Giving

Volunteering and charity strengthens the sense of community. We give through financial collection and individual skill sets that bring people together with their families to support community development. We aim to instill a sense of responsibility and caring that calls us to serve.

Community Building

We exist for our community. We want to unite people from diverse backgrounds and work towards a common goal of a safe and vibrant community.

Awareness

Understanding community needs helps foster empathy. As time progresses, so does our responsiveness and obligation to evolve to those needs.

Social Integrity

We actively create healthy relationships in our community. We aim to distribute wealth and opportunities that enable all people to live up to their potential, using our resources to serve, advocate and communicate to those in need.
| | | |
| --- | --- | --- |
| | | The Proceeds |


Proceeds of the J&J benefit the Palo Fire Department directly and will be used at their discretion. Funds from this year's event will go towards the family of former Assistant Fire Chief Keith Bisson and his wife, Dana. Their daughter, Ashley, was diagnosed with Hodgkin's Lymphoma, Stage 4B in April 2015. She received five 21 day cycles of chemo and a 15 day cycle of radiation. She has undergone countless blood work and scans. Currently, Ashley is considered in remission. She has monthly appointments at the University of Iowa Children's Hospital. These visits include labs, followed by an appointment with her primary oncologists, and an appointment with her radiologist. These visits monitor the progress to her immune system. They also check the progress of her physical therapy as muscle damaged occurred in her legs and feet from the chemo medications.
Ashley and her family want what anyone would want, normalcy. To be healthy enough to return to the things she loves. To one day perform as part of show choir. Despite all of this, she has remained positive. Even making blankets for other teenagers at the University of Iowa Children's Hospital, when she saw a need for them. The positive attitude does not help pay the accumulation of medical bills. This fundraiser will. Your support is truly appreciated.
| | | |
| --- | --- | --- |
| | | Palo Fire Department |
Comprised of a dedicated group of volunteers from in and around Palo. They are individuals with families, full-time jobs, and active lifestyles who still find time to give back to their community. The members of the department are trained and certified as Firefighters as well as Emergency Medical Technicians and are ready to respond to any emergency at a moments notice.
If helping others, serving the community, and driving a big red fire truck are for you please contact the Palo Fire Department at 319 851-4831 or palofire@gmail.com to discuss becoming a part of this dynamic team
| | | |
| --- | --- | --- |
| | | Questions? |
For event-related questions, please click on the *Contact the Organizers* button on the left-hand side of this page.
---
When this page loaded, the official time was 5:19:57 AM EDT.