Remembrance Run/Walk--5th Annual
in United States at Norm Waite Sr YMCA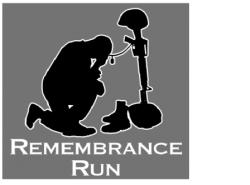 Run/Walk

Online registration is closed for this category.




---

Kid's Run or Walk (ages 18 or younger)
Please see important event details (below) on the front page of this form.

Online registration is closed for this category.




---

Volunteer

Online registration is closed for this category.




---

Donation for Siouxland Freedom Park

Online registration is closed for this category.




---
| | | |
| --- | --- | --- |
| | | About the Event |
Missouri River Runners are hosting the Fifth Annual Remembrance Run/Walk.

The format of this event will change this year; we will now begin at the Norm Waite Sr YMCA and conduct the event from 6:00 pm until 10:00 pm Friday May 22nd, 2015. This annual Memorial Day event honors our past and present military members, promotes community fitness, and encourages team and family activity, and friendly competition.

The event moving to the South Sioux City riverfront location and ending at the Siouxland Freedom Park Vietnam Memorial Wall allows participants to see what has been accomplished and for some, exactly where the Park is located. In line with prior events, participants may run or walk as long as they would like; any length of time or distance during the event. They may also participate individually or as members of a team.

Participation costs will remain at $25.00 adults and $10.00 for children 18 and under. All registrants will receive a technical event shirt and the first 200 entries will be guaranteed a headlamp. All proceeds raised will be donated to Siouxland Freedom Park, a 501(c) (3) organization.

This event will be marketed through all standard media outlets to include local running and fitness clubs, area chamber of commerce organizations, various business organizations and service clubs, and through health care providers. Contact will be made in the tri-state area with all branches of the service, the American Legion, and other veterans' organizations.

Your support as a sponsor will helping defray logistical expenses of facilitating this event for our participants. All sponsors donating a minimum of $250.00 or more in goods or monies will have their name or logo included on the event shirts.

Our first four years of the event have been very fruitful; a total of 1,562 participants have logged in excess of 7,061 miles and have helped raise $34,000 for the Siouxland Freedom Park. We have also accomplished our secondary mission to raise community awareness concerning the concept, goals, and development plans for the Siouxland Freedom Park.

As the Park expands it will continue to draw more outside tourism and community interest. Your direct involvement in this family-friendly community endeavor will also link your business with one of Siouxland's hottest up and coming tourist destinations.

All of our sponsors will be displayed on our website and Facebook pages.
| | | |
| --- | --- | --- |
| | | Team Competition |
Families, schools, organizations, and businesses are encouraged to develop teams to participate. Participants may join the run/walk for any length of time: one lap, one-mile, one hour, or the entire event. More details to follow.
| | | |
| --- | --- | --- |
| | | Missouri River Runner Discount |
Missouri River Runner members can claim a $5 discount on the registration cost. If you are a member, this applies to each member of your family as well. Annual MRR dues are $15 and again- this covers your entire family. Please take advantage of this offer- if you are registering more than 3 people you automatically pay for the MRR dues. More information can be found at the MRR website at www.missouririverrunners.com/
| | | |
| --- | --- | --- |
| | | Team Check |
---
When this page loaded, the official time was 7:33:51 AM EST.