Lewis Memorial Acres Full Moon Trail Run
in United States at Lewis Memorial Acres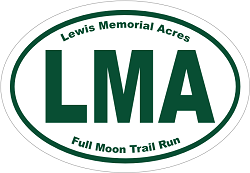 2.5+ Mile Off-Road Fun Run
(Sunset is 7:21P) Rain or Shine

Online registration is closed for this category.




---
| | | |
| --- | --- | --- |
| | | Registration |
Event is limited to the first 150 registered runners. Race day registration may be available if participant limit has not yet been met. Check-in and packet pick-up starts at 6:00P at the pavilion in LMA park. Check-in is mandatory.

The first 100 registered participants for the Full Moon Trail Run will receive an oval LMA Full Moon Trail Run destination sticker.

The event is FREE but a donation of $15 or more is suggested for run.

Donations to Lewis Memorial Acres can be made on-line, accepted at registration or can be mailed to:

Lewis Memorial Acres
PO Box 9541
Springfield, IL 62791-9541

Lewis Memorial Acres Association is a non-profit organization as defined by the IRS and donations are tax-deductible.
| | | |
| --- | --- | --- |
| | | Event Details |
This is an off-road 'fun' event - run in the dark.

The LMA Full Moon Trail Run is a proud member of the Central Illinois Trail Series (CITS). CITS challenges runners to participate in three local trail runs over the course of the 2017 season. Be a CITS participant and get a FREE CITS t-shirt. There is no fee to join the trail series but to get the t-shirt you must register and participate in each of the three following events:


Run for the Rose 5K West of Wise Winery, Petersburg 4/29/2017

Full Moon Trail Run 2.5M Lewis Memorial Acres, Springfield 9/6/2017

Abe's Trail Trek 10K New Salem State Park, Petersburg 11/11/2017

Lewis Memorial Acres (LMA) was a generous gift donated by Irene Lewis in 1984. In her will, she wished to provide the land to create a Christian park for the community. The forty acres represent a beautiful prairie and wooded setting for recreation, relaxation, and reflection. The park is governed by a non-profit board that meets regularly to oversee the growth and development of the park.

This event is to promote LMA while offering the community a unique and fun event with a night trail run in this hidden gem on Springfield's west central side.
| | | |
| --- | --- | --- |
| | | Things To Know |
You MUST check-in before the race.

You MUST carry at least one flashlight and/or headlamp.

Paint and/or ribbon will be used to mark trail turns.

Reflective gear is recommended.

A few course marshals will assist in questionable course intersections.

Additional parking is available at the adjacent Koke Mill Christian Church.

There is a port-a-potty in the park and additional restrooms available in lobby of Koke Mill Christian Church.

This is a Fun Run. It will NOT be officially timed. There are NO t-shirts or awards.

Portable music devices and strollers are not allowed for safety purposes.

Water will be available at start/finish but NOT on the course.

Pizza will be provided for participants by Antonio's.

LMA Board or event planning committee reserves the right to cancel the event due to safety considerations.

Event updates may be available at www.facebook.com/LewisMemorialAcres.
| | | |
| --- | --- | --- |
| | | Trail Etiquette |
If you want to pass a participant, please clearly announce - 'PASSING.'

Slower participants yield/move over for faster runners.

Please do not litter the trails and park.

Be careful.

Have fun!

| | | |
| --- | --- | --- |
| | | Questions |
For event related questions please click on the "Contact the Organizers" button on the left-hand side of this page.
---
When this page loaded, the official time was 2:51:32 AM EDT.