Any Baby Can's 13th Annual Walk for Autism - "Fiona's Toadgirl Crew"
Saturday, April 22, 2017
in San Antonio, TX at Helotes Cornyval Grounds 12210 Leslie Rd, Helotes, TX 78023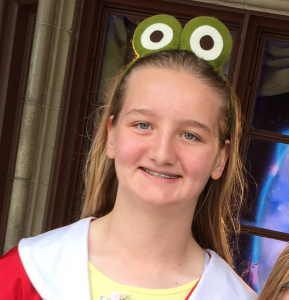 We will be walking to help those like Fiona on April 22nd from 7:00am-2:00pm at the Helotes Fairgrounds.
We have had amazing support on our journey! We want to make sure there is support for all of those that love someone with autism. Please help us support Any Baby Can. They reach individuals in our community, San Antonio, that otherwise wouldn't be able to receive the support and services they need.

5 Parent Training Sessions - $315 per person
Parent Tool Box - $35 per person
Sibling Support Session - $150 per child
Parent's Social Night - $65 per person

Thank you in advance for your support!
The walk is 2 miles on the grounds of the Helotes Fairgrounds. If you plan on walking let me know and I will provide you with a t-shirt.
Contributors on Behalf of "Fiona's Toadgirl Crew"
Adia Hale, Fiona Hale, Jeffrey Hale, Colleen Hale - 2 Mile Walk for Autism
Sandra Vasquez - 2 Mile Walk for Autism
Yahaira Herrera - Donate to a Fundraising Team


"Fiona's Toadgirl Crew" has raised $0.00.
"Fiona's Toadgirl Crew" has a goal of raising $500.00.

progress: 0.00%




If you are the owner of this homepage, please login to make changes. Use the username and password you created or used when you registered for the event associated with this homepage.