Country Hustle 5K & Boot Kickin' Relay
in United States at Magnuson Park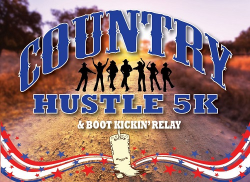 Boot Kickin' Relay
Up to 4 runners, each doing a 1/4 mile in cowboy boots!

Online registration is closed for this category.




---

Join an Existing Relay Team
Must have original team Transaction Number

Online registration is closed for this category.




---

5K Run and Walk Individual

Online registration is closed for this category.




---

Kids Dash

Online registration is closed for this category.




---

Imports

Online registration is closed for this category.




---

Withdrawn

Online registration is closed for this category.




---
| | | |
| --- | --- | --- |
| | | It's Time To Cowboy or Cowgirl It Up! |
In the early afternoon of Saturday June 29, 2019 you will get just that chance as Magnuson Park plays host to the wildest country-themed outdoor party in the Northwest, with a fitness side too of course. This is the weekend leading into the Fourth of July and we invite you to come out and celebrate Independence Day and the red, White and Blue a little early!

There will be…
A 5K (3.1 mile) run and walk entirely within the park.

Boot Kickin' Relay In case you want a shorter but more country experience. Cowboy boots must be worn in the relay! The distance is 1 mile so get some friends together and kick up those boots!

Finisher Medals For everyone in the 5K and the Boot Kickin' Relay.

T shirt & bib number Your entry also includes a kick-ass custom-designed Country Hustle T shirt and bib number.

Free kids dashes – The Little Cowboy/Cowgirl Dash -- for children 12 and under. Each future rodeo star will receive a specially designed bib number as well as a ribbon at the finish line.

Photowall With some great country props naturally.

Country Hustle Saloon For those 21 years of age or older (be sure to bring I.D.!). Beer (of course), Cider, Boilermakers (Texas Two-Step), jello shots and more. Your first beer or cider is on us!

Live DJ We'll have a live DJ spinning the best contemporary country, rockabilly, southern country rock,

Dance Lessons There will be an expert on hand to lead you through the basics of line dancing and the 2-step.

Non Alcoholic Beverages For those so inclined, whether under 21 or over.

Costume Contest Prizes for most authentic country look, most creative and just about anything else you can think of, as long as it has a country theme and is cool!

ALSO… Music, food and drink samples, swag, random prizes and more great stuff from our many vendors and sponsors at the event.
| | | |
| --- | --- | --- |
| | | Country Hustle Boot Kickin' Relay |
Giddyup Y'all…It's your time to shine!

Get together some friends, family members or anyone else you can dig up and challenge the competition in this quirky yet somewhat competitive Country relay event. Be sure and challenge some other friends to do the same and let's see who can walk the walk!

The Rules
1. Teams consist of 4 (or less) people who each run a ¼ mile of the 1 mile relay course while wearing cowboy boots. We encourage you to dress up even more in the country western theme, but as long as you're wearing cowboy boots we're good.

1A. If you're team consists of less than 4 runners (minimum of 2 is required), well…that's your problem. It just means each person will have to run further, and we only give out awards for the overall teams regardless of how many runners you have. But 2 runners is the minimum requirement, and 4 is the maximum.

2. Teams can be coed or not, but we don't discriminate around these parts and there's only two categories of teams we recognize…them that finish and them that don't.

3. Be sure and come up with a great name.

4. Each team must come up with a type of "baton" for the runners to hand off to one another. The "baton" begins in the hand of the first runner and is passed off to the next runner in each exchange zone and ultimately carried across the finish line by your anchor runner.

4A. We're very flexible when it comes to what a baton is so use your imagination…a cowboy hat, a sash, a stick, a brick (not recommended for obvious reasons but allowed), even an actual relay baton will work. Any team without a baton will be given a rubber chicken…Cleetus…to use as a baton. You will also be mercilessly mocked.

5. The members of each team will need to get themselves to their exchange zone locations. Don't worry, you can see them all and none are too far to walk. The start line is also a bit of a walk.

6. Any formal protests filed by one team against another (say, for cheatin') will be ruled on immediately by the Rules Committee. All rulings are final and not subject to debate.

The final, anchor relay runner will finish at the main start/finish line in the venue area. It's closer to the Saloon that way.

Click here to see a pdf of the course route and the three relay exchange zone locations.
| | | |
| --- | --- | --- |
| | | Country Hustle Timeline |
Country Hustle Timeline
3:00 p.m. Registration and packet pickup opens in Magnuson Park
3:00p.m. LiveDJ
3:30 p.m. Country Hustle Saloon officially opens (21 and over)
3:15p.m. Country dance lessons. Line dance and 2-step
4:00p.m. Boot Kickin' Relay Start
4:15p.m. Little Cowboy/Cowgirl Kids Dash Start
4:25 p.m. Line dance warmup
4:35 p.m. -ish 5K Run & Walk begins
5:45 p.m.-ish Awards ceremony including costume contest
| | | |
| --- | --- | --- |
| | | Additional Registration Options |
In-Person Registration
Super Jock 'n Jill (Green Lake) (206) 522-7711
Super Jock 'n Jill (Redmond) (425) 658-4929

*In-person registration ends at noon on Wednesday, June 26 at the Redmond Super Jock 'n Jill location, but will remain open at their Green Lake location through the close of Packet Pickup on June 25th.


Via Pony Express (Mail)
Print out and complete the paper registration form here and mail with payment to: Pro-Motion Events at P.O. Box 31789, Seattle, WA 98103
Last Gasp Registration & Packet Pickup

Register for the event or pick up your event packet and shirt at Super Jock 'n Jill's Green Lake store on Friday June 28(10AM to 6:00pm)
All unclaimed packets will be available at the event on Saturday June 29 beginning at 3:00 p.m. at Magnuson Park.

**Again: Kids Dash is FREE (add $12 for a kids dash shirt)
| | | |
| --- | --- | --- |
| | | Questions? |
If you have questions, please use the "Contact the Organizers" link on this page.
---
When this page loaded, the official time was 4:17:43 AM EDT.