Hack N Dash Fiddlers
in United States at Fiddler's Green Golf Course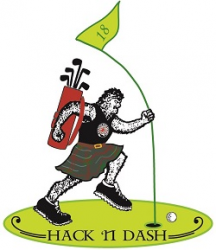 3K & 18 Holes - Individual

Online registration is closed for this category.




---

6K & 36 Holes - Individual

Online registration is closed for this category.




---

3K & 18 Holes - 2-Person Team

Online registration is closed for this category.




---

6K & 36 Holes - 2-Person Team

Online registration is closed for this category.




---

Withdrawn

Online registration is closed for this category.




---
| | | |
| --- | --- | --- |
| | | Event Description |
Who likes to run and golf at the same time? Speed-golf players and novelty-seekers do! This event has participants playing golf on a Par-3 course, while running from shot to shot. Participant scores are determined by adding the total number of strokes taken with the total time elapsed to complete either 18 or 36 holes.

You can participate as an individual or as a member of a two-person team. Two-person teams will alternate shots throughout the entirety of the round - i.e. team-member 1 hits, then team-member 2, then 1, then 2, etc. regardless of whether you are teeing off or not (whoever sinks the final putt is not the person who hits the tee shot on the next hole).

Entry includes timing, green fees, refreshments, awards, and random-prize drawings. Awards will be presented to the top overall male and female finishers in the individual 18 or 36 hole events and the top three 2-person teams in the 18 and 36 hole events.
| | | |
| --- | --- | --- |
| | | Course Information |
The course is "of course," flat, fast and scenic - it's on a golf course. The 18-hole golf course will be completed twice to constitute a 6K total distance or once for a 3K total distance. There will be water stations on the course, provided by Fiddler's Green, and at the "turn" from 18 to 36 holes.
| | | |
| --- | --- | --- |
| | | Start Times |
9:00 am - First Wave

Participants will be staggered every three minutes (based on projected time and strokes).
Start times will be announced the week of the event.
| | | |
| --- | --- | --- |
| | | Event Partners |
http://www.fiddlersgreen.com/
| | | |
| --- | --- | --- |
| | | Event Rules |
1) Each participant may carry up to three golf clubs and up to five golf balls (fanny packs are recommended). A few extra clubs will be available at the start, to borrow, based on a first-come, first-served basis.
2) Participants will start in three minute intervals, based on their projected 6K/3K time and 36/18 hole stroke total.
3) A participants' time will start when they leave the starting line (which is 50 yards before the first tee box), not when they hit their first shot.
4) If a participant is about to hit "into" another participant, they must yell "fore" before striking their ball, but may not strike the ball until the participant in front has waved them on to hit.
5) Participants may play through and participants that are "caught" must allow a faster participant to play through, yielding the next tee if necessary.
6) Penalty shot rule - if a shot is out-of-bounds or in the water, then there is a one-stroke penalty and the next shot will be struck from the point of the penalty infraction (either where the out-of-bounds ball left the field of play or on the grass adjacent to where the ball entered the water).
7) Participants must replace divets and repair ball marks before proceeding.
8) The golf course is an 18-hole course, which will be played once to complete a 3K distance and a 18-hole total. If playing 6K and 36 holes, upon coming off of hole number 18, participants must come back through the starting area - if there are no other participants waiting to start on either of their two 18-hole laps, then a participant may continue play after checking in. If participants are waiting to play, then a participant that is coming off of the first 18-hole lap, will have their time suspended and will be given a signal as to when they may continue.
9) Participants must follow all direction signs on the course or be disqualified. Bright yellow signs will indicate where the next tee box is located.
10) All participants will be responsible for keeping their own score - this event is based on the "honor" system. Score cards, kept throughout the event (updated after each hole) must be turned into the scoring tent no later than 10 minutes after the completion of their round (and crossing the finish line).
11) All participants must follow all directions from course marshals located on each hole.
12) There will be a warm-up period to preview the course from 3pm to 3:55pm. After this time, participants are not allowed out onto the course any further than the #1 tee box for inspection.
13) Any participant that hits a hole-in-one will receive a 5-minute time deduction from their total score.
14) If a participants' ball lands on a "human-made" hazard, then that participant is entitled to drop their ball one club-length from the edge of the hazard.
15) A participants' total score will be based on a combination of the total elapsed time to run the distance and the total stroke count to play the holes. For example: If Pat Hacker has a total running time of 58 minutes and 32 seconds and a total stroke count of 90, then the total event score for Pat would be 148:32.
16) Have a lot of fun!
| | | |
| --- | --- | --- |
| | | Questions? |
For event-related questions, please click on the *Contact the Organizers* button on the left-hand side of this page.
---
When this page loaded, the official time was 7:57:21 PM EDT.