Howard County Striders - Next Step FIT
in Columbia, MD at Oakland Mills High School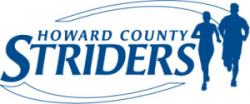 Training Program
Program starts April 13, 2023

» $50.00 for Howard County Striders Members (through 4/6 at 11:59 PM EDT) Time remaining to register at this price:
» $65.00 for Howard County Striders Members - late registration after 4/6 (4/6 at 11:59 PM EDT through 4/10 at 11:59 PM EDT)



---
* Click here for fee information
| | | |
| --- | --- | --- |
| | | Program Details |
The Females-in-Training (F.I.T.) program is designed for women of all ages who want to learn to run in a supportive, non-coed environment. F.I.T. is primarily for women who are fairly new to running or coming back to running after a break. The F.I.T. coaches will support and guide you so that you will be ready to run a 5K (3.1 miles) distance by the end of the program. If you are already running, you are welcome to participate if you do not run faster than a 10-minute pace. If you are already faster than this pace, we encourage you to try one of the other Striders programs. All participants must be at least 18 years of age to participate.

The F.I.T. program motto is Fitness, Fun and Friendship. We want running to be a way for you to meet your fitness goals while having fun and developing friendships with women who are also embarking on their running journey.

Training Program Structure
Participants will be divided into smaller training groups with coaches who will provide them with training that is best for their current fitness level and running method preference. We offer two types of training groups:
1) Run/walk - this training incorporates a run/walk method where short run segments are followed by a walk segment. This run/walk method is highly successful for both new and experienced runners.
2) Mostly running - these are primarily running groups split by pace with only limited breaks for water or coaching.

In all groups, weekly workouts will gradually increase in distance and pace. Pre-run warmups will take place at the school followed by runs primarily on nearby paved trails. In addition, participants are expected to run on two other days of the week to build endurance. Please note that while we offer run/walk groups, running is a key component of the program. It is not a program for those who wish to walk only. And we run in rain, but not during thunder or lightning!
| | | |
| --- | --- | --- |
| | | Training Program Dates |
F.I.T. will begin on Thursday, April 13 and continue through Thursday, June 15. The program meets every Thursday at Oakland Mills High School in Columbia, MD from 6:00 to 7:30 pm.

April 6 – Orientation at Feet First at the Wilde Lake Village Center. At this session, you'll learn more about the program, meet the coordinators and some coaches, and get answers to your questions. We'll also have information on how to select proper footwear and other running apparel. This session is not mandatory, but it is recommended for those who have never participated in the F.I.T. program in the past. Participants will receive further details after registering for F.I.T.

April 10 – Registration closes (may close early if the registration limit is reached).

April 13 – Baseline run. This is a timed 1-mile run or run/walk on a course behind Oakland Mills H.S. to determine group placement.

April 20 – First group runs at Oakland Mills High School. After registering, you will receive full details.

June 15 - Last group runs followed by refreshments and celebration!
| | | |
| --- | --- | --- |
| | | Group Rules |
1) You must sign the waiver before participating in F.I.T. A copy can be found on the online registration form
2) The F.I.T. program follows the RRCA's safety rules: NO headsets during training runs; NO strollers; NO pets. Please leave children at home as we do not offer childcare.
3) Water breaks will occur. Please bring your own water.
| | | |
| --- | --- | --- |
| | | Pricing |
The program fee is $50 and includes:
• Weekly training sessions with F.I.T. coaches
• Weekly email communication with coaches
• Access to our F.I.T. members-only Facebook page
• Several Saturday meet up runs
• End of season premium
• Several pre-run presentations by local experts
• Lots of Fitness, Fun and Friendship!
| | | |
| --- | --- | --- |
| | | For more information |
For more information, please use the Contact the Organizers link in the left column.
---
When this page loaded, the official time was 3:23:24 PM EDT.