2022 Great Columbia Crossing 10K Run/Walk
in United States at Astoria-Megler Bridge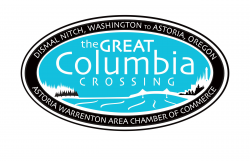 10K Run/Walk
Limited to 3500 participants. Price increase on Sept. 10th.

Online registration is closed for this category.




---

Child 10K Registration
Children under 10 years old on race day

Online registration is closed for this category.




---

Virtual 10K Run/Walk
Run your own 10k race, on your own course, at your own time, and post your results in the Results Portal between October 9-16.

Online registration is closed for this category.




---

Make Only a Donation
Please consider making a donation to the Astoria-Warrenton Area Chamber of Commerce

Online registration is closed for this category.




---

Race Day Packet Pick-Up (available to participants already registered)
This category DOES NOT include a race registration.

Online registration is closed for this category.




---

Packet Shipping (after 9/11 requires purchase code)
This category DOES NOT include a race registration.

Online registration is closed for this category.




---

Refunded Duplicate

Online registration is closed for this category.




---

WITHDRAWN

Online registration is closed for this category.




---
| | | |
| --- | --- | --- |
| | | Event Details |
The Astoria-Megler Bridge will once again be fully open to runners and walkers and closed to vehicles on Oct. 09, 2022, from 8:30 to 11 a.m. Registered runners and walkers trekking from Washington to Oregon can once again cross the Astoria-Megler Bridge - the longest continuous truss bridge in North America!

The race course offers participants scenic views of the mouth of the river and marine activity below. Competitive racers will be allowed to start ahead of the walkers and those wishing to take in the scenery. After crossing the finish line, participants can head into the historic town of Astoria, Oregon to fuel up with coastal fare and local craft brews as the morning fog starts to lift.

The cost of in-person registration for the run/walk is $45 per person and increases to $50 after September 9th. Registration includes: a race bib with chip timing, free parking with shuttle bus service to the start of the race (Dismal Nitch, Washington), finish line refreshments and water, and five "Clam Bucks" worth $1 each at participating businesses. Registrants must be in line for the shuttle to the starting line no later than 7:30 a.m. on race day. Optional merchandise for participants includes a long-sleeve event t-shirt (at an additional expense).

NO BAGS ARE ALLOWED ON THE SHUTTLE BUSES OR ON THE COURSE. This includes fanny packs, backpacks, running belt pouches, diaper bags, purses, camel backs, shopping sacks....NO BAGS are allowed. You can carry loose items in your pockets (keys, waterbottles, etc.). This policy was created with local law enforcement and the Department of Homeland Security and is in place for your safety.

In-person registration will be capped at 3,500 participants. There is no waitlist, so make sure to register as early as possible.

We are offering a Virtual 10K option for those looking to participate from a distance. Participants can run the 10K on their own course, on their own time, at their own pace, and submit their times to our Results Portal between October 9-16. Virtual registration will include a race bib, an official event t-shirt, and free shipping of race materials, all for $35. Registrants wishing to have a packet mailed outside of the U.S. will be contacted with the International Shipping options and invoiced the balance for the increased postage. Participants are responsible for providing the correct shipping address when registering.

The Great Columbia Crossing is made possible due to the generosity of the event's Presenting Sponsor, Columbia Memorial Hospital Cardiology Clinic, a CMH/OHSU Col­laboration. Columbia Memorial Hospital, in collaboration with Oregon Health & Science University, provides comprehensive care for a range of heart health and heart disease prevention needs here in our community.

During the event, the Astoria-Megler Bridge will be closed to vehicle traffic to add safety for participants, volunteers and others helping on the bridge. The closure will occur for approximately 2.5 hours during the event, from 8:30 a.m. to 11 a.m. Non-event travelers are encouraged to take a little more time that morning before checking out of their hotels, enjoy a leisurely breakfast, shopping and exploring before hitting the road to avoid the delay and congestion around the bridge.

More information is available at www.greatcolumbiacrossing.com or by calling the Astoria-Warrenton Area Chamber of Commerce at (503) 325-6311
| | | |
| --- | --- | --- |
| | | Shirt |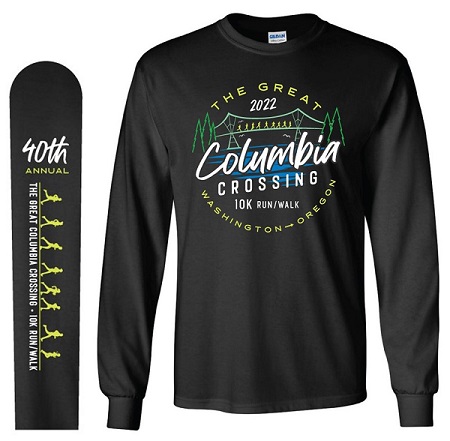 Image is representative and does not necessarily show the final artwork version or selected shirt color.

Event shirts are long sleeve and available in two fabric choices: 100% cotton or 100% polyester.
The cotton shirt is a classic heavyweight fabric with rib cuffs.
The polyester shirt is a midweight performance fabric with a modern classic fit, formerly referred to by our race as the "athletic" option.
Sizing is adult/unisex with one youth shirt option available.

*Any left-over t-shirts will be made available to the public for purchase in the Astoria-Warrenton Area Chamber of Commerce Visitors Center after race day.
| | | |
| --- | --- | --- |
| | | Questions? |
For event-related questions, please click on the *Contact the Organizers* button on the left-hand side of this page.
---
When this page loaded, the official time was 2:29:43 PM EDT.