2023 Great Columbia Crossing 10K Run/Walk
Sunday, October 8, 2023
in Astoria, OR at Astoria-Megler Bridge
Current Registered Participant Add-on Options
Passscode Required. Must already be registered for the event and verify Q number on step 2. This category DOES NOT include a race registration.

» $20.00 Add Shirt - Select your size on step 2 (through 9/24 at 11:59 PM US/Pacific) Time remaining to register at this price:
» $15.00 Add Mailing of Packet to Existing Registration (through 9/24 at 11:59 PM US/Pacific) Time remaining to register at this price:


These add-ons must be approved by the race director. Please email events@oldoregon.com if you'd like to add a shirt or shipping to your existing registration so we can check inventory before providing you with the passcode.

Current Registered Participant Add-on Options



---

10K Run/Walk Registration

at 8:45 AM


Limited to 3,500 participants. Purchase optional $20 shirt during registration. Register by 8/25 to guarantee shirt preference.

Online registration is closed for this category.




---

Free Child 10K Registration - Requires separate registration (2 children per paid adult entry)

at 8:45 AM


Children under 10 years old on race day: Requires paid adult transaction code

Online registration is closed for this category.




---

Virtual 10K Run/Walk
Run your own 10k race, on your own course, at your own time, and post your results in the Results Portal between October 8-15.

Online registration is closed for this category.




---
* Click here for fee information
| | | |
| --- | --- | --- |
| | | Event Overview |
THIS EVENT IS SOLD OUT. We're sorry to have missed you. There is no wait list for the 2023 event.
Registration for 2024 will open in June. Visit our website to sign up for our email list to be notified.

***

See the Astoria-Megler Bridge from a whole new perspective!

This epic event, headquartered in Astoria, Oregon, gives participants once-a-year access to cross the longest continuous truss bridge in North America. Whether you're an experienced runner or looking for a family-friendly event, the Great Columbia Crossing 10K appeals to everyone.

The 2023 race will cap at 3,500 in-person participants and there is no waitlist. Register as early as possible to guarantee your spot.

The race course offers participants scenic views of the mouth of the river and marine activity below. Competitive racers will be allowed to start ahead of the walkers and those wishing to take in the scenery. After crossing the finish line, participants can head into the historic town of Astoria, Oregon to fuel up with coastal fare and local craft brews as the morning fog starts to lift.

The following overview is an excerpt of the detailed event information available on our race website, www.greatcolumbiacrossing.com.
| | | |
| --- | --- | --- |
| | | Registration |
In-person registration - $45 * (Ages 10 and up)
late registration (after Sept. 4) - $50
youth under 10 must register - FREE

Virtual registration - $35 (includes shirt, finisher medal & mailing)

Optional add-ons:
Long sleeve event shirt - $20
Packet mailing - $15
Race day packet pickup - $20

* In-person registration includes: a race bib with chip timing, free parking with shuttle bus service to the start of the race (Dismal Nitch, Washington), finish line refreshments and water, and five to ten "Clam Bucks" worth $1 each at participating businesses. Finisher medals will be handed out on race day at the finish line.

Children under 10 can register as free participants without chip timing. All participants 10 and up must pay the registration fee to participate in the event. You may register children for chip timing if desired, but they must pay the registration fee, regardless of age.

All event participants of all ages MUST pre-register for the event. All minors must be accompanied by an adult at all times during the event.
| | | |
| --- | --- | --- |
| | | Course Information & Notice of Road Closures |
The Astoria-Megler Bridge will once again be fully open to runners and walkers and closed to vehicles during the event. Washington HWY 401 will also be closed during the start of the race.

All participants must take a shuttle to the starting area at Dismal Nitch. There is no parking at the starting line. Shuttles operate from Astoria, Oregon and Chinook, Washington.

During the event, the Astoria-Megler Bridge will be closed to vehicle traffic to add safety for participants, volunteers and others helping on the bridge. The closure will occur for approximately 2.5 hours during the event, from 8:30 a.m. to 11 a.m. Washington HWY 401 will also be closed during the start of the race while participants get from starting area to the bridge.

Non-event travelers are encouraged to take a little more time that morning before checking out of their hotels, enjoy a leisurely breakfast, shopping and exploring before hitting the road to avoid the delay and congestion around the bridge.
| | | |
| --- | --- | --- |
| | | Important Dates |
June 27, 2023 - Registration opens for in-person and virtual event
September 5 - Late registration - fee increases to $50
September 5 - Deadline to select option to have packet mailed
September 5 - Deadline for virtual registration
September 22 - Packets will be mailed in mid-September and will leave our office by this date (optional purchase)
October 5-7 - Packet pickup at chamber office
October 8 - Race day (in-person)
October 8-15 - Virtual participant results portal open
| | | |
| --- | --- | --- |
| | | Packet Pickup and Mailing Options |
Mail: Skip the packet pick up line and have your race packet mailed to you for $15. Packets will be mailed in mid-September (leaving our office no later than September 22, 2023). If you opt for packet mailing during registration, there is no requirement to attend packet pickup.

Packet Pick up: If you don't opt to have yours shipped, packets will be available for pick up in-person at the Astoria-Warrenton Area Chamber of Commerce in the days leading up to the race. You may pick up for family members or friends.
Participants will be required to choose a packet pick-up time slot during online registration:
Thursday, Oct. 5: 12 to 6 p.m.
Friday, Oct. 6: 10 a.m. to 6 p.m.
Saturday, Oct. 7: 10 a.m. to 2 p.m.
Saturday, Oct. 7: 2 p.m. to 7 p.m.
RACE DAY, Sunday, Oct. 8: 6 to 7 a.m. (additional $20 convenience fee)
Please note that there will be an additional $20 fee if you choose to pick-up your packet the morning of the race, Sunday (10/8), near the Basin Street shuttle loading area.

Race packets include:
* unique bib number with timing chip (no chip for free child registrants)
* safety pins
* Clam Bucks to spend at participating local businesses
* race day reminders card
* long-sleeve T-shirt (if purchased)
| | | |
| --- | --- | --- |
| | | Shirt |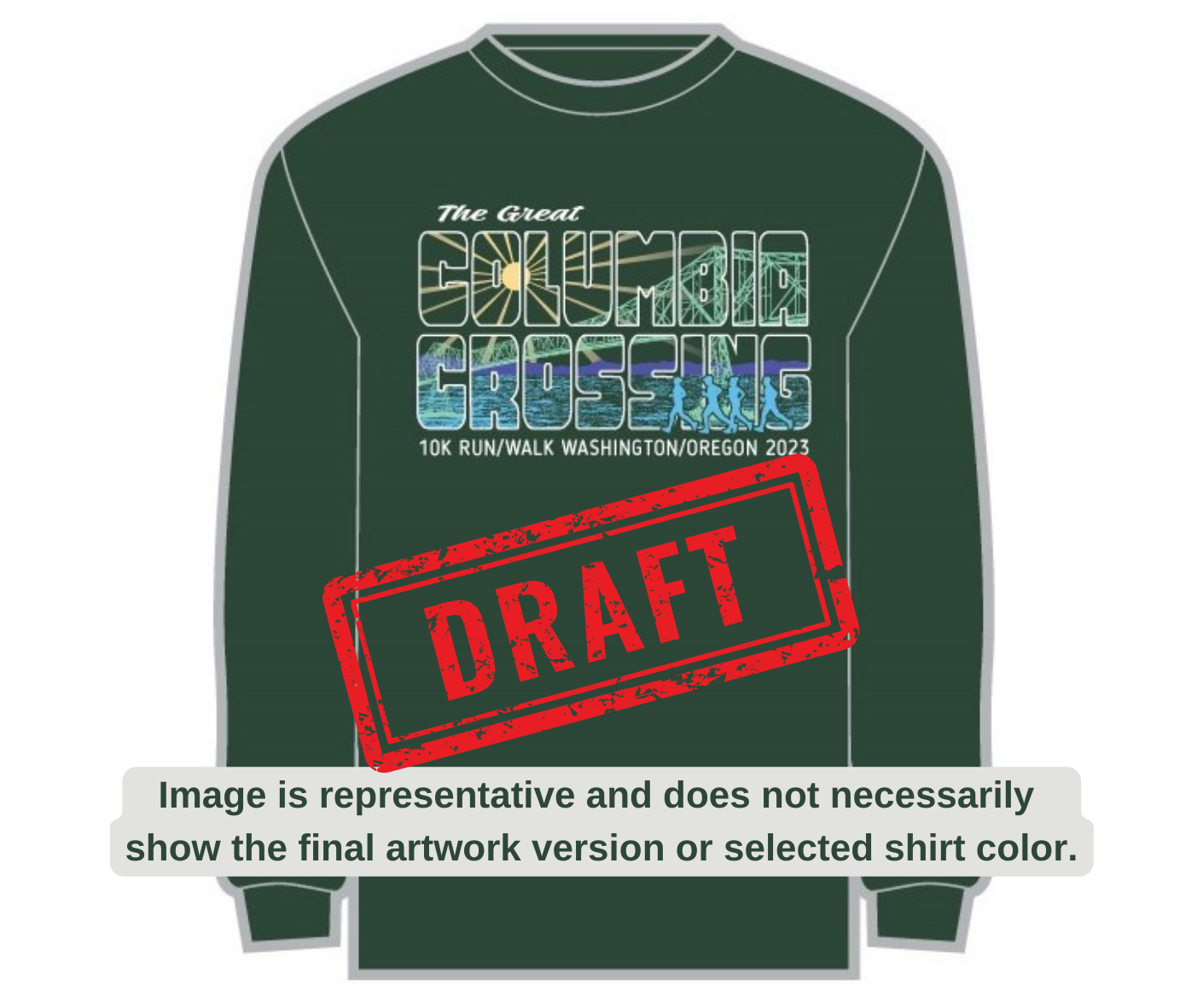 Optional: Long sleeved shirts can be purchased for $20.
2023 event shirts will be FOREST GREEN long sleeve and available in two fabric choices:
100% Cotton Shirt
is a classic heavyweight 6-ounce ultra cotton with rib knit cuffs. (same brand/style we've offered at previous events.)
100% Polyester shirt
is a different brand/style than we've had in recent years. Lightweight 3.8-ounce, roomy, highly breathable, moisture-wicking
Sizing is adult/unisex with one youth shirt size option available. Shirt selection may vary based on availability.
Click here to view size chart for the shirts
*Any left-over t-shirts will be made available to the public for purchase in the Astoria-Warrenton Area Chamber of Commerce Visitors Center after race day.
| | | |
| --- | --- | --- |
| | | Parking & Shuttles on Race Morning |
We keep a very tight schedule on race day to ensure our event starts and finishes on time, per our agreement with the Oregon & Washington State Departments of Transportation and other permitting organizations.

Event parking and shuttle stops are different this year! We have four locations for participants to catch a shuttle to the starting area.

Please review the parking and shuttle information on our website: www.oldoregon.com/the-great-columbia-crossing-10k/event-parking/

There is NO parking or drop off of race participants at the starting line. Everyone must use the shuttle.
| | | |
| --- | --- | --- |
| | | Prohibitions |
NO BAGS are allowed on the shuttle buses or on the course.
This includes fanny packs, backpacks, running belt pouches, diaper bags, purses, camel backs, shopping sacks....NO BAGS are allowed. You can carry loose items in your pockets (keys, waterbottles, etc.) and use Gear Check for coats or other warm up gear. This policy was created with local law enforcement and the Department of Homeland Security and is in place for your safety.

NO PETS are allowed on the shuttle buses or on the course.
Service animals are trained working animals, NOT pets. Please contact us to make arrangements if you will be accompanied by a service animal or need other special accommodations due to a disability. We want to ensure you have the best possible Great Columbia Crossing experience, but we need your help to do so.

NO DRONES or UAS are allowed on the course by participants AND spectators. The majority of the course is located in a FAA NO DRONE ZONE. We also want to keep all participants safe from potential falling hazard as the wind and weather conditions can be unpredictable on our course.

NO MOTORIZED VEHICLES are allowed on the course except for medical emergency or event officials.

Failure to comply will result in expulsion from this and future AWACC events.
| | | |
| --- | --- | --- |
| | | Sponsors |
The Great Columbia Crossing is made possible due to the generosity of the event's Presenting Sponsor, CMH-OHSU Health Cardiology Clinic. Columbia Memorial Hospital, in collaboration with Oregon Health & Science University, provides comprehensive care for a range of heart health and heart disease prevention needs here in our community.

Supporting sponsors include:
• Shuttle Sponsor: Samuel S. Johnson Foundation
• Race Recovery Snack Sponsor - Gimre's Shoes
• Gear Check Station Sponsor – North Coast Runners Supply
• Mile Marker Sponsor - Coastal Family Health Clinic
| | | |
| --- | --- | --- |
| | | Participation Waiver |
By indicating your acceptance, you understand, agree, warrant and covenant as follows: In consideration of my entry, I myself, my heirs, executors, administrators and assigns, waive, release and discharge any and all rights, claims or damages against Astoria-Warrenton Area Chamber of Commerce, Oregon and Washington State Departments of Transportation & Transportation Commissions, Oregon State Police, Washington State Patrol, City of Astoria, City of Warrenton, City of Seaside, Clatsop and Pacific Counties, Port of Astoria, Port of Chinook, Astoria School District, and their employees, and any participating sponsors, municipalities, contractors and any and all participating directors, employees and agents of such parties for any and all injuries in any manner arising or resulting from my participation and/or any underage children in my care participating in this event.

I attest and verify that I have full knowledge of the risks involved in this event, that participation in a road race/walk is a potentially hazardous activity, that I assume those risks, that I will assume and pay my own medical expenses in the event of an accident, illness or other incapacity, and that I am physically fit and sufficiently trained to participate in this event.

I grant permission to all the foregoing to use any photographs, motion pictures, recordings or any other record of this event for any legitimate purpose. I understand and agree that full race results will be posted online after the event. I understand that my race bib is unique to me and that transferring my bib to another person is not allowed.

• I agree to, & understand, that there are no refunds/transfers for any purchases made associated with the event, for any reason, including cancellation of the event.
• In-Person Participants: I agree to, & understand, that NO BAGS (including backpacks, purses, belly packs, water bags, etc.) NO PETS and NO DRONES are allowed on the shuttles and race course at any time.
• In-Person Participants: I agree to, & understand, that the violation of any race or failure to obey the instructions of any race official may result in being banned from future events.
• By accepting this waiver, I acknowledge that I have / will review all the information on the event website, registration page and sent in pre-race communication emails prior to coming to the event.
• I AGREE TO, & UNDERSTAND, ALL RULES & REGULATIONS FOR THE 2023 GREAT COLUMBIA CROSSING 10K RUN/WALK.
| | | |
| --- | --- | --- |
| | | Questions? |
Please visit our event website to familiarize yourself with more event details including our FAQ page, race day schedule, and more.
www.greatcolumbiacrossing.com

By registering, for this event, you acknowledge that you have / will review all the information on the event website, registration page and sent in pre-race communication emails prior to coming to the event.

For event-related questions not answered here or on our website, please click on the *Contact the Organizers* button on the left-hand side of this page to email our team.
---
When this page loaded, the official time was 4:36:29 PM EDT.