TOMRV - 2019
in United States at Scott Community College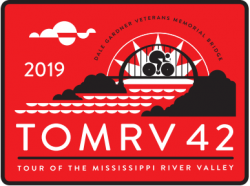 Individual Registration
The form opens on 12/01/18 @ 7:00 AM CT

Online registration is closed for this category.




---

WITHDRAWN

Online registration is closed for this category.




---

Past Event Email Marketing

Online registration is closed for this category.




---
| | | |
| --- | --- | --- |
| | | The Ride |
TOMRV is the Tour of the Mississippi River Valley, a Midwest cycling tradition now in its 42nd year. Every year more than 1,000 bicycling enthusiasts come to ride the TOMRV tour. They enjoy a challenging ride on scenic roads, through Midwest farmland, and along the Mississippi River.

We leave on Saturday June 8, 2019 from Bettendorf, Iowa (106 miles) or from Goose Lake, Iowa (75 miles), and travel to Clarke University in Dubuque, Iowa. The next day we return using a different route to Bettendorf (90 miles) or to Goose Lake (50 miles). The route is varied and scenic, using lightly traveled paved roads. There are many views of the Mississippi River as we ride along it, over it on bridges, and through it on causeways. The route is hilly near Dubuque, with 6,000 feet of climbing on Saturday and 4,000 feet on Sunday

You will have top-notch support services on the tour. The Quad Cities Bicycle Club provides many rest stops on the way with free food and refreshments. Additional food is sold along the route by civic and church organizations. Upon arriving at Clarke, the legendary TOMRV banquet is waiting for you. Clarke University will open its dormitories for our overnight stay. Camping at Clarke is also an option, as well as staying at local motels.

New for 2019, we will offer transportation on Sunday morning for you and your bicycle to your starting point. This idea has come about because, over the years, various individuals have indicated that they would like to participate in the ride, but they would prefer to ride only one day. Some people have ridden the ride for many years, enjoy the comradery, but feel they would enjoy riding only one day. Others have personal conflicts, but may be able to ride one day. Knowing that Saturday is the big day of the ride with the longer mileage, the beer garden, and banquet, we are offering Sunday morning transportation (leaving Clarke at 8:00) for you and your bicycle to Goose Lake or Scott CC. The cost for this is $25.00. This fee is in addition to the regular registration fee. Be sure to include this in your registration to secure your spot!

This is TOMRV, a tradition of good riding, good scenery, challenging hills, good food, and an overall good time. So if this is for you, then plan to ride with us this year.

Please visit www.qcbc.org/tomrv/ for more information.
| | | |
| --- | --- | --- |
| | | Jersey |


For 2019, we will be using Voler jerseys. We used Voler in 2017. If you participated in TOMRV in 2017 and ordered a jersey, please use that as a guide when ordering for 2019. Note: the sleeveless jersey is a hybrid fit. That means it is between the race and club fit. Take that into consideration when you order a sleeveless jersey. Women's jerseys will have a relaxed hem. Men's jerseys will have a gripper hem. Jersey will have a full-length zipper. You may want to visit the Voler website (Voler.com) to look at sizing guidelines before ordering.

A change for 2019: you will need to order a jersey before the cut-off date. The cut-off date is April 6, 2019, at 11:59 p.m. We will not be selling jerseys on registration day; therefore, selecting the best size for you is important. We will not have extra jerseys at registration for trading sizes.
| | | |
| --- | --- | --- |
| | | Shirts |
Again this year, our tees are a lightweight ringspun cotton that looks great and is comfortable to wear. Sizing is fairly true. Every rider gets one tee included in registration, but you can order additional tees. We have size XS which will fit many children as well.

If you desire to order additional t-shirts, the cut-off date for ordering will be April 6, 2019, at 11:59 p.m.
| | | |
| --- | --- | --- |
| | | Overnight at Clarke |
We offer these overnight choices on the Clarke Campus. All rooms come with bed linens, pillows, and towels. Additionally many riders stay overnight in Dubuque motels.


Single dorm room - this is a dorm room with a single bed. Most are not air conditioned. Bathrooms and showers are on the floor, designated mens and womens. $48

Double dorm room - this is a dorm room with two beds. Most are not air conditioned. Bathrooms and showers are on the floor, designated mens and womens. $80

Sleeping bag space - These are in air conditioned areas shared with other riders. Towels and showers are provided. You provide a sleeping pad and bag. $22.

Camping - Camping is supported in designated areas on campus. Bathrooms and showers for nearby dorms are used. No towels are provided. $11.
At the time of activation of this site, Clarke University could not guarantee the availability of the suites. If the situation changes over time, a notification will be made.
| | | |
| --- | --- | --- |
| | | Sponsors |
| | | |
| --- | --- | --- |
| | | Questions? |
For event-related questions, please click on the Contact the Organizers button on the left-hand side of this page.
---
When this page loaded, the official time was 7:12:24 AM EDT.