United Way of Western Nebraska Color Dash
PRESENTED by First State Bank
in United States at Five Rocks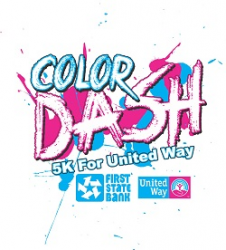 5K Individual Entry
Shirt not guaranteed if registered after 6/14.

Online registration is closed for this category.




---

Group or Family (2-4 Participants)
Standard individual fees apply.
Shirt not guaranteed if registered after 6/14.

Online registration is closed for this category.




---

Group or Family (5-9 Participants)
10% discount off standard registration fees.
Shirt not guaranteed if registered after 6/14.

Online registration is closed for this category.




---

Large Group or Family (10+ Participants)
20% discount off standard registration fees.
Shirt not guaranteed if registered after 6/14.

Online registration is closed for this category.




---
| | | |
| --- | --- | --- |
| | | Color Dash Details |
The Color Dash will be a 5K FUN walk or run event for all ages. It will begin at 8:00 AM at Five Rocks Amphitheater in Gering,

There is plenty of parking available! Racers will be started in groups every few minutes from the starting line. Bring a group of friends, dress up and have some fun, but be sure to get in the line together so you can run together!

The race will start at Five Rocks, wind through Gering and end at Five Rocks Amphitheater. You will receive the race map in your packet. If your family and friends are not racing, invite them to line the streets of Gering and cheer you on.

They can purchase individual packets of paint to splash you with! There will be "Pit Stops" along the route for the racers sponsored by local businesses.

Lots of fun things happening!!!
| | | |
| --- | --- | --- |
| | | Packet Pickup |
Race packets can be picked up at:
First State Bank
2002 Broadway, Scottsbluff
Friday, June 22nd: 10:00 AM - 6:00 PM

Register after 6/21 at 11:59 PM at First State Bank with cash or credit card until Friday, 6/22 at 6:00 PM or at race (t-shirt not guaranteed)

Packets can also be picked up the morning of the race from 7:00 - 8:00 AM at Five Rocks Amphitheater.

However, we encourage you to get your packets early so you'll have your racer's bag and won't have to wait in line!

All Adult and Student racers will receive:



Sports pack bag from First State Bank

T-shirt from Logoz

Sunglasses from Webb Eyecare

Race Number

Bandana/Headband

Race Map

One Paint Packet

Snacks-Main Street Market & Dietrich Distributing

Coupon from Sam & Louie's Pizza

Coupon from Midwest Theater


| | | |
| --- | --- | --- |
| | | Late Registration |
Register after 6/21 at 11:59 PM at First State Bank with cash or credit card until Friday, 6/22 at 6:00 PM or at race (t-shirt not guaranteed)
| | | |
| --- | --- | --- |
| | | Post Race Celebration |
Thanks to our great sponsors there will be snacks and water available after the race! Also you can enjoy more paint and fun music!
| | | |
| --- | --- | --- |
| | | Answers to FAQ |
There are only 1,000 spots available to race. Register early before all of the spots are sold out!!


You don't have to be a "runner" to enter this race! This event is all about a color crazy day with friends and family to support United Way of Western Nebraska! This is not a timed event and there is no age limit. You can run, walk, crawl, or cartwheel if you wish! We do ask that kids are accompanied by an adult. You can run or walk with a stroller, but it might be a good idea to cover the seat with plastic to protect it.


The "color" is a cornstarch based powder that is non-toxic and biodegradable. It does mostly wash out after the event. We suggest you wear items that you wouldn't mind getting color on. If you would like to preserve the color in your running shirt, spray it with vinegar and iron it.

We will have an air-blowing "cleaning station" at the finish line. With a good dusting off, you won't be 100% clean, but you should be good for the drive home. Bring a garbage bag or plastic to put on the seat of your car after the race..just in case!

Please NO PETS in the Color Dash.

It will be late June so please bring water, wear hats, sunscreen and dress cool!

Be sure to join our event on facebook under United Way of Western Nebraska for updates and additional information as it becomes available.


The easiest way to enter is online with a credit/debit card. You will receive an email confirmation shortly after your register!

For more information call United Way of Western Nebraska: 635-2522
| | | |
| --- | --- | --- |
| | | Questions? |
For event-related questions, please click on the *Contact the Organizers* button on the left-hand side of this page.
---
When this page loaded, the official time was 9:13:06 PM EDT.