2018 Frisco Education Foundation Mindbender Academy
Monday, June 11, 2018 - Monday, June 18, 2018 in Frisco, TX at Frisco ISD Career and Technical Education Center (CTE Center)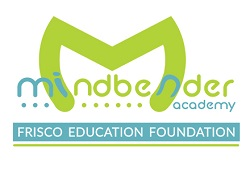 | | | |
| --- | --- | --- |
| | | Week One AM/PM Sessions |
Coding and Game Design
Think about your favorite game, that cool website, or the app that makes your life easier. In this session, you will understand the key elements of game design and learn to use simple visual coding techniques.
Film and Video Production
Jump into the magic and discipline of the multi-media and moviemaking arts and sciences with practical, hands-on "reel" world experiences
Focus on Science of Creation
What can you create in 4 days? Design and build your own electrical creation. Get hands-on with Maker Space tools. The only limits are your scientific imagination.
Health & Forensic Science
Students will be introduced to the world of health and forensic science to help them reconstruct and determine factors and causes and events. Students will learn to reason, think critically, make decisions, solve problems, and communicate effectively.
Focus on Science in Multiple Industries
It will open the student's eyes up to how science and technology is interconnected technologically through industries such as sports, industrial rail road, public service, and more.
Focus on Arts
An integrated hands-on approach to learning Performing Arts in order to develop an understanding of how Arts are coming together to drive innovations in technology.
| | | |
| --- | --- | --- |
| | | Week Two AM/PM Sessions |
Hands-on and interactive approach to Science, Technology, Engineering, Arts and Mathematics (STEAM) in order to introduce students to the various careers in the area of STEAM.
| | | |
| --- | --- | --- |
| | | About the Frisco Education Foundation |

Celebrating 19 years of investing in the future of Frisco ISD students and staff. The Frisco Education Foundation is a not-for-profit 501(c)(3) started in 1999 to benefit the students and staff of Frisco ISD. The Foundation's mission is to provide financial resources to maximize student potential in the Frisco Independent School District through educational scholarships, including the Gary Burns Memorial Scholarship for high school seniors and teachers through innovative "Grants for Great Ideas". To date, the Frisco Education Foundation has awarded over $4.5 million in college scholarships to more than 4,980 graduating seniors and more than $657,000 to educators to fund innovative ideas that benefit teaching and learning in the classroom. To learn more about the mission and work of the Frisco Education Foundation and how you can change the lives of FISD students and staff, see www.friscoeducationfoundation.org
| | | |
| --- | --- | --- |
| | | Questions? |
For event-related questions, please click on the Contact the Organizers button on the left-hand side of this page.
---
When this page loaded, the official time was 7:56:37 AM EDT.