Run On The River - 2018
in United States at 6th Street Platform by Buoy Beer Company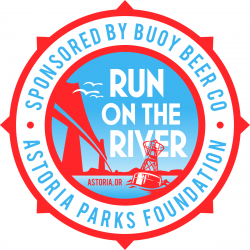 Half Marathon - Individual Entry - SOLD OUT
Runners start at 9:00am/walkers start at 8:30am

Online registration is closed for this category.




---

Half Marathon - Group of 6 or More - SOLD OUT
Runners start at 9:00am/walkers start at 8:30am

Online registration is closed for this category.




---

10K - SOLD OUT
10k starts at 10:00am

Online registration is closed for this category.




---

5K - SOLD OUT
5k starts at 11:00am

Online registration is closed for this category.




---
| | | |
| --- | --- | --- |
| | | Course Map Links |
| | | |
| --- | --- | --- |
| | | Press Release: Run on the River is Sold Out |
ASTORIA, OR - The 5th annual Run on the River sponsored by Buoy Beer Company is Sunday, May 20, 2018 along the Astoria Riverwalk. This year's race sold out earlier this month with just over 600 total runners registered for the half-marathon, 10k and 5k races. Because the race sold out early for the first time ever, last minute race entries will not be sold at packet pick up prior to the race.

Run on the River is a fundraiser hosted by the Astoria Parks, Recreation and Community Foundation, sponsored by Buoy Beer Company and supported by local businesses. The intention is to raise money for scholarships for individuals and families to utilize health and wellness programs provided by Astoria Parks and Recreation.

Last year over $30,000 was raised just by the Run on the River event which contributed to nearly 1000 scholarships for youth swimming lessons, family fitness memberships and team sports registrations. So far this year, over $45,000 has been raised.

Run on the River is family friendly and offers runners and walkers three lengths: half marathon, 10k or 5k. This year, the half marathon and 5k routes are USA Track and Field certified, which means runners can accurately track their personal records and qualify for other larger races.

The race starts at 8:30 A.M with half marathon walkers at the 6th Street Platform; half marathon runners begin at 9:00 A.M.; 10k starts at 10:00 A.M.; and 5K starts at 11:00 A.M.
The awards celebration will take place shortly after Noon at the Buoy Beer platform on 7th Street.

This year a Kids Fun Run has also been added. Kids ages 3 to 10 can meet up at Noon for a two block dash. The Fun Run is free. T-shirt will be available to purchase for $15 while supplies last.

Please be advised: the Riverwalk will be closed from 7am to 1pm to pedestrian traffic.

The entire Riverwalk will be utilized as well as some of the surrounding neighborhoods and attractions. In addition to the use of the Riverwalk, all of the race routes start at the 6th Street Platform and head west through the Port of Astoria and back. Half marathon and 10k runners will continue past Buoy Beer, around the back of the Columbia River Maritime Museum and through the Mill Pond neighborhood. Half marathoners will continue out and back on the East Mooring Basin; out and back into Violet LaPlant Park; continue further east on the trestles; through the Alderbrook Lagoon; into the Alderbrook neighborhood where they will turn around and head back again to the 6th Street Platform.

The City has granted lane closures on the roads associated with the course which includes: Alder Street, from the Riverwalk access area up to 53rd Street; from 53rd Street to Birch Street; and the entire length of Birch Street. Flaggers will be present to monitor traffic flow as needed. Water and Aid Stations will also be set up in the area for the participants.

A large majority of the Run on the River participants are coming to Astoria from out of town just for this race. While most of the runners are from Oregon, runners from 12 other states and British Columbia have registered. In the past, runners have expressed their appreciation for the cheers of support that come from the locals in the neighborhoods. Join us and help root them on.

Run on the River is successful because of the large community support from local businesses, residents and volunteers. Thank you. If you would like to be involved, registration is closed but there is still time to sign up to volunteer. For information, volunteer sign-up and sponsorship details, please visit the APRCF website at www.astoriaparksfoundation.com. Follow Run on the River on Facebook, Twitter and Instagram.
| | | |
| --- | --- | --- |
| | | Run on the River |
You don't want to miss out on this great event. The best part is that all proceeds go to fund Astoria Parks and Recreation scholarships so that children and families in the area can access health and wellness opportunities through Parks and Recreation.

This is Astoria's premiere half marathon, 10k, and 5k. Enjoy a run around the Astoria River Walk and finish with an amazing hand stamped glass medal made exclusively by Fernhill Glass Studios and stay for the awards an after party Sponsored by Buoy Beer.

Registration includes a t-shirt, finisher's medal, and lunch and a beverage from Buoy Beer Company.

New this year: the course will be USATF certified!
| | | |
| --- | --- | --- |
| | | Post Race Party hosted by Buoy Beer Co. |
Buoy Beer will be hosting post-race food and drink between 11 AM and 1 PM, and the award ceremonies at 12 PM right next to the start/finish area outside Buoy Beer Co. Runners and volunteers will receive a seafood boil lunch and beverage. Have your ID handy if you plan to have a beer. We'll have NA and GF beverage options too. Please let the server know if you've requested a vegetarian/GF/alternate meal.

*Additional beverage and meal tickets will be available for purchase at the event. Drink: $5 Food: $15
| | | |
| --- | --- | --- |
| | | Awards |
Half Marathon Finishers
Overall first place male/female finishers will receive $200.
Overall second place male/female finishers will receive $100.
Overall third place male/female finishers will receive $50.
Age division winners, first through third place, will receive a waterbottle.

10k & 5k Finishers
Overall first, second and third place female/male finisher will receive a gift certificate.
Age division winners, first through third place, will receive a waterbottle.
| | | |
| --- | --- | --- |
| | | Packet Pickup |
Packet pick up will begin the Friday evening prior to the race at the 7th Street Platform just outside Buoy Beer Company (1 - 8th Street, in Astoria). Packets will include your preassigned race bib with food/beverage voucher, t-shirt, route maps and more. Fernhill Glass will provide information about personalized medal engraving after the race.

Packet Pick up times
Friday, May 18, 5:00 PM - 7:00 PM
Saturday, May 19, 10:00 AM - 4:00 PM
Sunday, May 20, Starting at 7:00 AM
| | | |
| --- | --- | --- |
| | | Please be advised |
* This is NOT a closed course. There may be other runners/walkers/bikers along the Riverwalk.
* Identifiable volunteers will be on hand to help direct pedestrian and vehicle traffic at the few crossings, particularly on the west end.
* Six aid stations will be available along the entire half marathon course (which includes the 10K and 5K routes). The stations will offer water and snacks donated by our sponsors.
* Run with care! You will be running across trestles, uneven surfaces, and trolley tracks which can be slick especially when wet (and it "sometimes" rains in Astoria!). Please watch your footing at all times.
| | | |
| --- | --- | --- |
| | | Where to go |
The start and finish location for the race is at the
6th Street Viewing Platform (6th and W. Marine Drive.)
| | | |
| --- | --- | --- |
| | | Parking |
Limited parking is available at this location but you may park in the DHS parking lot (450 Marine Drive) or at the Aquatic Center (1997 Marine Drive).
| | | |
| --- | --- | --- |
| | | Gear Check |
We are unable to provide gear check at this event. Please make arrangements to secure your belongings in a vehicle or with a spectator. Your Buoy Beer drink and food tickets will be attached to your race bib.
| | | |
| --- | --- | --- |
| | | Want to Volunteer? |
We are looking forward to this event and it takes alot of help from volunteers like you.
Volunteers can plan to spend part of the day, May 20th assisting in various areas of the race. In addition to our appreciation for volunteering your time, you will also receive, lunch the day of the event and have the opportunity to participate in our volunteer meeting at Buoy Beer with drinks and snacks on Thursday, May 17. Thank you for offering your time!
Click here to register for a spot. signup.com/go/LEGpOpY
| | | |
| --- | --- | --- |
| | | Questions? |
For event-related questions, please click on the *Contact the Organizers* button on the left-hand side of this page.
---
When this page loaded, the official time was 8:33:27 PM EDT.