Heaven Can Wait Walk/Run 5K 24th Anniversary - FLAT Friendz in Central Oregon Stand Tall AFC
Sunday, October 1, 2023
in Redmond, OR at Redmond High School, Football Stadium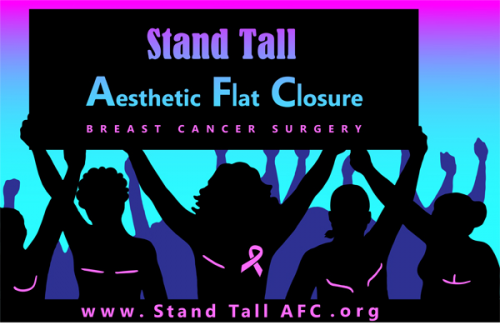 Welcome to the FLAT Friendz in Central Oregon Stand Tall AFC team! We welcome survivors, friends and relatives to walk with us in support of of journey with breast cancer and choosing Aesthetic Flat Closure.

We look forward to walking with you on October 1st at Heaven Can Wait at Redmond High School!

In love and joy, Cricket Campbell
Questions: 541-306-7013
FLAT Friendz in Central Oregon Stand Tall AFC Members
$35.00 from Jen Crenshaw - 5K - Sponsor Comp Code Holders - Individual
$35.00 from Jennifer Colman - 5K - Individual
$35.00 from Natalie (Bergen) Bock - 5K - Individual
$35.00 from Mary Hill - 5K - Individual
$35.00 from Lloyd Campbell - 5K - Individual
$35.00 from Robert Gagermeier - 5K - Individual
$35.00 from Michelle Gagermeier - 5K - Individual
Kristen Carstens - 5K - St. Charles Caregiver - payroll deduct
$36.00 from Cricket Campbell - Make a Donation
$35.00 from Nancy Wham Smith - 5K - Individual
$35.00 from Carol Klemz - 5K - Individual
$35.00 from Cricket Campbell - 5K - Individual
FLAT Friendz in Central Oregon Stand Tall AFC has raised $386.00.

If you are the owner of this homepage, you may login to make changes, using the username and password you created or used when you registered for the event associated with this homepage.
---
When this page loaded, the official time was 6:45:05 AM EST.