CRMO Awareness Virtual 5K Walk-A-Thon - Team Griffin
Sunday, October 16, 2022
in Anytime between October 9 and October 16, 2022,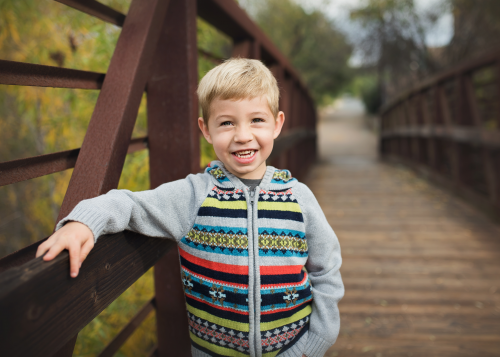 Hello and Welcome to Team GRIFFIN!

We are Brianna and Kevin Zarins, Mom and Dad to a CRMO Warrior, Griffin. Our sweet and sassy middle son was officially diagnosed with a disease called Chronic Recurring Multifocal Osteomyelitis (CRMO).

Itís a very rare bone disease affecting only 1 in every 1 million people. The average age of onset is 10 years old. Our son is only 6, and started showing signs at just 4 years old. What started as complaints of pain and then a limp, turned out to be a heartbreaking condition. The diagnosis came after many blood tests, x-rays and surgery for a bone biopsy. #CRMO is a disease where the body attacks the bones causing inflammation.

The exact cause is unknown and there is no cure. Griffin has begun treatment but the path to remission is unknown at this time.

The San Diego CRMO awareness 5k is happening on Sunday October 3rd, 2021 from 10am-Noon. We would like to invite our family, friends and supporters to participate by walking, running, biking, skipping, wheeling, or rolling at least 3.1 miles to raise awareness and show support for our son Griffin and all those suffering with CRMO. You are welcome to join us on 10/16, walk on your own or make a donation to Team GRIFFIN. Please contact me directly for more details on how to join the walk on 10/3. If you would like to donate, please use the button below. We sincerely appreciate you love and support, no matter what form that comes in.
Team Griffin Members
Desmond Owens - Donation To Kaila's Komfort
Cindi Pesce - Donation To Kaila's Komfort
Shelley Gall - Donation To Kaila's Komfort
Jena Beane - Donation To Kaila's Komfort
Warren Jones - Donation To Kaila's Komfort
Dimitrios Topaltzas - Donation To Kaila's Komfort
Laura Farrar - Donation To Kaila's Komfort
Wendy Chan - Donation To Kaila's Komfort
Amit Malhotra - Donation To Kaila's Komfort
Brianna Zarins - CRMO Awareness 5K Walk-A-Thon
Team Griffin has raised $680.00.

If you are the owner of this homepage, you may login to make changes, using the username and password you created or used when you registered for the event associated with this homepage.
---
When this page loaded, the official time was 4:31:27 AM EDT.