Alaska Airlines Dawg Dash 5K/10K - Husky Public Health Pack
Sunday, October 9, 2022
in United States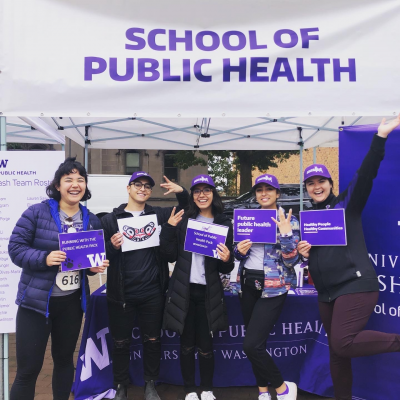 Hello,

Welcome to the School of Public Health Dawg Dash landing page.

Our team name is: Husky Public Health Pack

Please register to join our team. You may participate for the Dawg Dash 10K or 5K walk/run virtually or in-person on Sunday, Oct. 9.

Dean Hilary Godwin will lead the pack on the Seattle campus, if you are interested in joining for our in-person walk/run.

Thanks for joining us for this exciting Fall event.

Go Huskies!
Husky Public Health Pack Members
Margaret Dinardo
Maddy Wiesenhahn
Wendy Dlamini
Sophie Li
Melanie Cope
Caitlin Maloney
Amanda Phipps
Amelia Wilkerson
Mathi Ngamsiripol
Paul Chandanabhumma
Stephanie Farquhar
Shaun Dyreng
Mary Jewell
Tongqiu Jia
Jennifer Cheng
Matthew Lachner
Elizabeth Patten
Arantxa Sanchez Boluarte
Amy Hernandez
Amy Hernandez
Elizabeth Carnesi
Aurora Mattson-Hughes
Janice North
Chantel Aspuria
Esther Choo
David Liu
David Liu
Mary Carmen Navarro Morales
Mary Carmen Navarro Morales
Maya Dawson
Maya Dawson
Jenna Truong
Ann Richey
Miruna Petrescu-Prahova
Taeya Lauer
Taeya Lauer
Sean O'Hogan
Erica Moodie
Terri Ravnik
Romaine Bush
Chaoyi Tsai
Simon Sandh
Jonathan Lubin
KeliAnne Hara-Hubbard
Maria Bajenov
Jake Godwin
Hilary Godwin
Tashmee Sarwar
Arjee Restar
Joseph Kowalczyk
If you are the owner of this homepage, you may login to make changes, using the username and password you created or used when you registered for the event associated with this homepage.
---
When this page loaded, the official time was 1:50:48 PM EDT.