Alaska Airlines Dawg Dash 5K/10K - #HuskyPharmacist
Sunday, October 9, 2022
in United States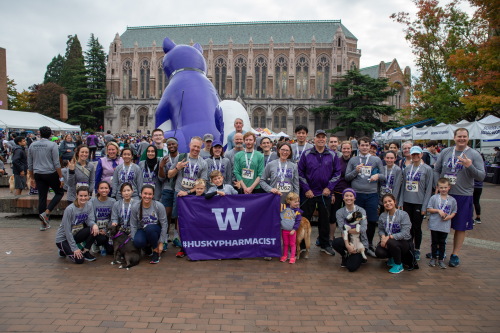 The UWAA's signature scholarship fun run/walk is hitting it's stride this October! On team #HUSKYPHARMACIST you can join your fellow Dawgs for a 10k/5k race around campus, or from wherever you are! Join UWSOP alumni, students, faculty, staff, and friends for the 2022 Dawg Dash.

Register early to be one of the first 40 registrants and also receive custom UWSOP race day swag! Early Bird Pricing ends September 9th!

Questions about team #HUSKYPHARMACIST? Contact William Langevin at 206-221-2465 or lange97@uw.edu.
#HuskyPharmacist Members
Vea Tungul
Melissa Deng
Emma Honeyman
Yuanyuan Shi
Stephanie Pang
Joshua Villarreal
Maxwell Zeigler
Roanoke Brothers, Maren Brothers, Adam Brothers
Kevin Anderson
Lilybelle Molato, Robert Molato, Brenna Molato
Patricia Cheung
Chance Sirivong
Amanda Nguyen
Reanne Lee
Lisa Elaimy
Brandon Hong
Brett Waldbaum
George Weiss
Sanchita Galgalikar
Nancy Lee
Nancy Lee
Morgan Fries
Sandra Yang, Linnea Grotheer
Zoe Amaris
Michael Alwan
Amanda Peffer
Brenda Small
Ellicia Wong
Catherine Mai
Hilary Pham
Jenna (Jing Yin) Liang
Vivian Pham
Michelle Chung
Taylor Zheng
Lauren Kline
Helen Marshall
Danielle Small
Jeffrey Lau
Arne Anderson
Gail Anderson
Steven Nguyen
Tiffany Tran
Tiffany Tran
Maria Dolgova
Victoria Liu
Gary Elmer
Jacqueline Gardner
Emily Vo
Emily Vo
Katie Martinez
Shelly Gist
Zoe Amaris
Tim Adams
Laurie Adams
Laurie Adams
Sonal Jain
Ivan Figueira
Ivan Figueira
Michelle LaCrosse, Joanne LaCrosse
Maggie Felix
Maggie Felix
Kyle Plummer
William Langevin
Alexander Peralta
If you are the owner of this homepage, you may login to make changes, using the username and password you created or used when you registered for the event associated with this homepage.
---
When this page loaded, the official time was 5:48:58 PM EST.