CRMO Awareness Virtual 5K Walk-A-Thon - Team Cardi B
Saturday, October 16, 2021
in Anytime between October 3 and October 10, 2021,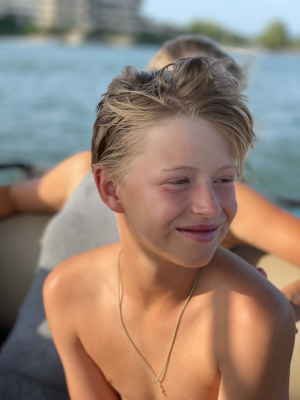 Hello friends and family. As you all know, Brady was diagnosed with a rare auto-inflammatory condition at age 3 called Chronic Recurrent Multifocal Osteomyelitis (CRMO) which causes inflammatory lesions to develop inside his bones which cause bone pain. His symptoms are controlled by taking daily oral medication and receiving a monthly infusion of a biologic medication.

It took an entire to year to diagnose Brady. He was seen by neurology, oncology, orthopedics and rhuematology. He underwent countless MRI's, blood test and bone marrow biopsies in order to finally arrive at the diagnosis.

This year, Kaila's Komfort is donating the majority of the proceeds to help fund a vital research project. Please read:

This year, the majority of the proceeds of the Walk-A-Thon will be donated to a CRMO specific research project. The Cassat Laboratory at Vanderbilt University Medical Center studies infectious and inflammatory diseases of bone, including CRMO/CNO. Of particular importance to CRMO research, and in collaboration with Dr. Zhao and Dr. Ferguson, they have been studying how bone and immune cells isolated from patients interact to cause inflammation and bone damage. They have also created innovative new approaches to directly visualize molecular changes in bone specimens, with the hope that these tools will ultimately provide both diagnostic and prognostic information for patients suspected of having CRMO. The proposed pilot project will synergistically merge their basic science expertise with outstanding investigators who perform clinical and translational research focused on patients with CRMO. They will leverage a new technique to "see" the genetic changes that are occurring in normal versus inflamed bone using biopsies from patients with CRMO. They hope that this approach will enable their interdisciplinary team to identify specific markers that will help to diagnose CRMO using either blood or bone samples. There is a desperate need for new tests that allow doctors to determine if a patient has CRMO, as opposed to another bone disease like cancer or infection and instead of just diagnosing after excluding everything else. Long term, we expect this pilot project to fuel a large NIH-funded study that will prospectively evaluate how imaging the genetic changes in bone can provide a diagnosis, prognosis, or new treatment option for patients and families suffering from CRMO.

We need to raise a minimum of $20,000 to provide the funding for this pilot project.

The Cardinell family will be walking Sunday Oct 3 here in San Diego if you'd like to join us. We will be walking at 10:00 am at Penasquitos Creek Park. You may also do your own virtual walk anywhere you would like the week of Oct 3-10 as a registered participant. I If you would simply like to donate, please know your donation is going to a very important cause. Brady simply thanks you for reading this very long post in order to simply learn more about him and CRMO research! Awareness is priceless.

Brady sends his love and he is grateful to have you all in his life supporting him.
Team Cardi B Members
Kathleen Cummings - Donation To Kaila's Komfort
Brian Cardinell - CRMO Awareness Virtual 5K Walk-A-Thon
Brady Cardinell - CRMO Awareness Virtual 5K Walk-A-Thon
Anna Cardinell - CRMO Awareness Virtual 5K Walk-A-Thon
Team Cardi B has raised $205.00.



If you are the owner of this homepage, please login to make changes. Use the username and password you created or used when you registered for the event associated with this homepage.
---
When this page loaded, the official time was 3:47:29 AM EDT.