16th Annual Courage Ride - Still Bustin' It for Bob (2020 - Virtual Ride)
Sunday, September 20, 2020
in United States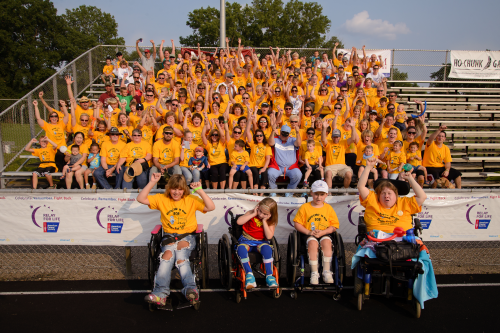 Hi friends and family,

In late May 2014, I answered the phone and heard the voice of my best friend in the world (and husband), calling from work to tell me that he had a tumor in his chest. WHAT?! He didn't even have a doctor's appointment! He asked a coworker to order him a chest x-ray, just to be sure he "didn't have a tumor or something". Just 8 days later, he was in surgery all day (and all evening), with chemo and clinical trials to follow. It wasn't a full year later that we were saying goodbye to him.

Cancer isn't fair. Cancer isn't fun. Cancer isn't nice. It is NASTY. It is ANGRY. But the irony about it is that I can't think of anything that brings people TOGETHER more than CANCER.

And here we are - in a world where we're told to "social distance"... yet we can STILL come together against cancer. So READ ON!

Bob's sarcoma was a rare one. Sarcomas themselves are rare, and his was a rarity among them. He was on multiple different chemo regimens as well as a couple of clinical trials, but we didn't get to experience the cure. My hope is that research catches up and that a diagnosis like Bob's doesn't have to be a death sentence.

The research money for cancer is not enough, and then the money that goes toward the rare cancers is much less than the common ones. But those people fighting the rare cancers deserve to have options too!

There ARE survivors of Sarcoma Cancer, and I hope and pray that ALL cancer patients can be cured!

Bustin' It For Bob was originally a Relay for Life Team (2014) formed by Bob's coworkers. We laughed, cried, celebrated life, and celebrated hope on that special day in August 2014. One year later, I met some of those friends at the Relay for Life to light candles and shed tears as we remembered Bob. That same month (2015), Bustin' It for Bob went on the road and joined the Courage Ride. A group of us decided to join a bigger "family" and we have continued to have a Bustin' It For Bob team at the Courage Ride ever since.

The Courage Ride began in honor of a young man named Seth Bailey, but it has had continued success because the Courage Board has welcomed and included others into their big "family". The ride is about honoring survivors, supporting caregivers, sharing hope, and sharing grief. I look forward to this ride each year, and the special memories (old and new) that come with it.

This year would be our 6th Annual Courage Ride (though 16th Annual for the bigger group)! But Courage Ride is going VIRTUAL this year. I'm bummed that we will miss the Iowa "rolling" HILLS, but I'm thrilled that I can include SO MANY MORE on my team. :) What I am saying is... YOU can join us ANYTIME, ANYWHERE, and ride ANY distance!

I hope that I can form my biggest team yet. We usually have a group of about 15-20 at the Courage Ride (which draws 500-ish riders each year). But how many friends and family will join our team, knowing that you can do it WHEREVER YOU ARE?! WHATEVER your ability-level? It can't be any more inclusive than this!

Here's a little more motivation... If you join my team, I will buy you a t-shirt. I am working on the specifics, but you can just email me (kvolz324@gmail.com) or call or text me with your t-shirt size, and whatever personalization you want on the back. The back will say something like, "I am riding to honor or remember..." and then you can add up to 3 names. It doesn't have to be all about Bob. It's about whoever matters to YOU.

We can share pics of ourselves riding or wearing our t-shirts in the first couple weeks of August. There will be a big Facebook Live Fundraiser on the Courage Ride page on Wednesday, August 12, so please mark your calendars for that too. :)

Lots of LOVE... and looking forward to continuing to Fight Sarcoma Cancer. TOGETHER.
Katie
Still Bustin' It for Bob (2020 - Virtual Ride) Members
Dan Irvin, Colleen Irvin - Entry – **NEW** Virtual Rider (All ages)
Justin List - Donation Only
Kevin and Susie O'Rourke - Donation Only
Bill Atkinson - Donation Only
Tony Bunn, Brenda Bunn - Entry – **NEW** Virtual Rider (All ages)
Charles Tate - Donation Only
Bob Haase - Donation Only
Justin Hofer - Donation Only
Patricia Ardovino - Donation Only
Aaron O'Brien - Entry – **NEW** Virtual Rider (All ages)
Cam and Carlene Roberts - Donation Only
Adam Winckler, Heide Winckler - Entry – **NEW** Virtual Rider (All ages)
Lindsay Lohrens - Donation Only
Barb Folco - Donation Only
Ken Lord - Donation Only
Nathan Aston - Donation Only
Steve Klein, Becky Klein - Entry – **NEW** Virtual Rider (All ages)
Linda and Larry Marsh - Donation Only
Patricia Woss - Donation Only
Janet Reif - Entry – **NEW** Virtual Rider (All ages)
Katie Jirek Staffeldt - Donation Only
Elaine Wiegrefe - Entry – **NEW** Virtual Rider (All ages)
Jayme Koerselman - Donation Only
Haemish Crawford - Entry – **NEW** Virtual Rider (All ages)
Carly Carron & Fam - Donation Only
John Forrette - Donation Only
Haley Dinkel - Donation Only
Bill Sakash - Donation Only
Amy & Randy Clark - Entry – **NEW** Virtual Rider (All ages)
Stacy Farr - Entry – **NEW** Virtual Rider (All ages)
Luke Bennett - Entry – **NEW** Virtual Rider (All ages)
Morgan Farmer, Emily Farmer - Entry – **NEW** Virtual Rider (All ages)
Joey Moriello, Carol Moriello - Entry – **NEW** Virtual Rider (All ages)
Melissa Warth - Donation Only
Kathy Volz - Donation Only
Kyle Judd - Entry – **NEW** Virtual Rider (All ages)
Laura Tassistro - Donation Only
Meredith Biba - Donation Only
Susan Reif - Entry – **NEW** Virtual Rider (All ages)
Elizabeth Nicholson - Entry – **NEW** Virtual Rider (All ages)
Brad Kegler, Ann Kegler - Entry – **NEW** Virtual Rider (All ages)
Meghan Peters - Entry – **NEW** Virtual Rider (All ages)
Brian Bratney - Entry – **NEW** Virtual Rider (All ages)
Melissa Thurlwell - Entry – **NEW** Virtual Rider (All ages)
Chrissi Crouse - Entry – **NEW** Virtual Rider (All ages)
Kristin Donahue - Entry – **NEW** Virtual Rider (All ages)
Richard Popielewski, Regina Reif - Entry – **NEW** Virtual Rider (All ages)
Adam Wathen, Caroline Wathen - Entry – **NEW** Virtual Rider (All ages)
Mallori Oyen, Maddie Oyen, McKenna Oyen, Henry Volz, PJ Volz - Entry – **NEW** Virtual Rider (All ages)
Barb Gerald - Entry – **NEW** Virtual Rider (All ages)
Neil Nicholson - Entry – **NEW** Virtual Rider (All ages)
Adam Wathen - Donation Only
Paul Ryan - Entry – **NEW** Virtual Rider (All ages)
Andy Weiss, Calison Weiss - Entry – **NEW** Virtual Rider (All ages)
Elsa Stanton - Donation Only
Joe Goolsby - Donation Only
Sheryl Solomon - Entry – **NEW** Virtual Rider (All ages)
Thomas Reif - Entry – **NEW** Virtual Rider (All ages)
Ryan Gibbons - Donation Only
Ginny Wintersteen - Entry – **NEW** Virtual Rider (All ages)
Amanda Bean - Donation Only
Katie Volz, Eric Oyen - Entry – **NEW** Virtual Rider (All ages)
Jill Galluzzo, Ben Galluzzo - Entry – **NEW** Virtual Rider (All ages)
Tim Vinyard, Erica Vinyard, Jack Vinyard, Joe Vinyard, Andrew Vinyard - Entry – **NEW** Virtual Rider (All ages)
Kristin Damstra, Darin Damstra - Entry – **NEW** Virtual Rider (All ages)
Shawn Henderson, Chris Henderson - Entry – **NEW** Virtual Rider (All ages)
Mike Donnenwerth, Amy Donnenwerth - Entry – **NEW** Virtual Rider (All ages)
Brandon Reddinger, Kristen Reddinger - Entry – **NEW** Virtual Rider (All ages)
Matt Teusink, Jen Teusink - Entry – **NEW** Virtual Rider (All ages)
Mike Smerek, Chrissy Smerek, Charlie Smerek, Josh Smerek - Entry – **NEW** Virtual Rider (All ages)
Still Bustin' It for Bob (2020 - Virtual Ride) has raised $4,005.00.



If you are the owner of this homepage, please login to make changes. Use the username and password you created or used when you registered for the event associated with this homepage.
---
When this page loaded, the official time was 10:09:59 PM EDT.