Hoosiers Outrun Cancer Fundraiser - Cashin's Crusaders
Tuesday, December 31, 2019
in Bloomington, IN at IU Memorial Stadium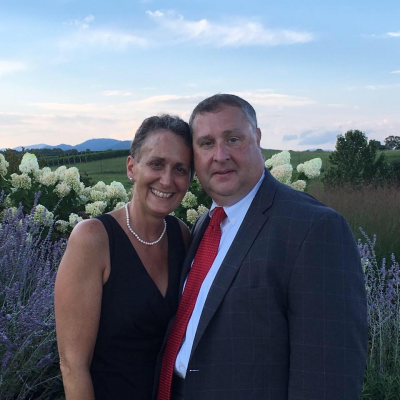 In 2016 my Aunt Marisa was diagnosed with glioblastoma, a type of brain cancer. She was a brilliant teacher, proud grandmother, enthusiastic runner, and loving wife, mom, daughter, sister, and aunt. Shortly after her first round of chemotherapy, she defended her PhD dissertation and earned her Doctorate of Education. Needless to say, she did not let her cancer inhibit her in any way or keep her from achieving her goals.

Marisa passed away this summer after an incredible three-year fight with her cancer. She was strong and brave, and maintained her sense of humor through it all. She died peacefully with so much love surrounding her from her family, friends, and community. The impact that she has made on everyone she interacted with lives on and speaks to her legacy.

Cashin's Crusaders was the team originally created by my aunt and her husband, Pete in 2018 for the Duke Cancer Institute's "Angels Among Us" walk. The team has raised money and spread hope for cancer survivors in North Carolina and continues to do so today. Cashin's Crusaders has also been established in New Jersey for the Northern NJ Brain Tumor Walk through the National Brain Tumor Society; the goal is the same! My hope is to establish Cashin's Crusaders in Indiana for patients fighting their own battles with cancer, much like my aunt did.

Marisa helped so many people in her lifetime and continues to make an impact today. No one fights alone!

To join our team on race day: https://secure.getmeregistered.com/get_information.php?event_id=130921

Click "Join a Team" and type in "Cashin's Crusaders".

To donate: Click "Contribute" below.
Cashin's Crusaders Members
Taylor Erickson - Contribute to the HOC 2019 Fundraiser
Kylee Orriss - Contribute to the HOC 2019 Fundraiser
Jackie Denton - Contribute to the HOC 2019 Fundraiser
Andrea Mehan - Contribute to the HOC 2019 Fundraiser
Julia Scotto - Contribute to the HOC 2019 Fundraiser
Cashin's Crusaders has raised $300.00.



If you are the owner of this homepage, please login to make changes. Use the username and password you created or used when you registered for the event associated with this homepage.
---
When this page loaded, the official time was 6:35:33 AM EDT.