CRMO Awareness Walk-A-Thon/5K - Team Chris - Maryland Walk
Saturday, October 26, 2019
in United States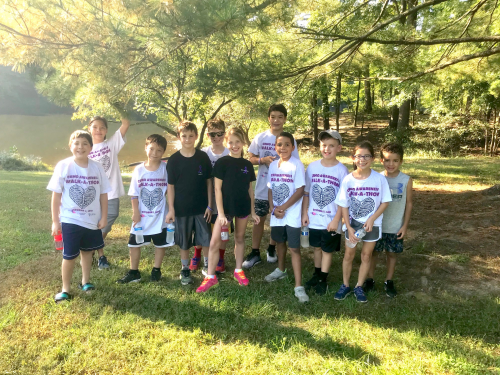 Location: Lake Needwood
Time: 9:30am
***The walk will start promptly at 9:30***

Join us for the 3rd annual CRMO Awareness 5K as we gather to raise awareness and research funds for CRMO. Chronic Recurrent Multifocal Osteomyelitis is an extremely rare, autoinflammatory bone disease where the immune system attacks healthy bone. Chris was diagnosed three years ago after intense pain, eventually losing his ability to walk and even sleep lying down. He would scream out in pain every night and there was nothing we could do to help him feel better. It took a while to get him properly diagnosed as CRMO looks like some cancers and infection. There is no diagnostic test for the disease and it can only be diagnosed once all other diseases are ruled out.

For the past two years, he has been receiving infusions that have put the disease into remission. A recent MRI showed that the disease is active again and we're not sure of the next steps. There is still so little known about the cause of CRMO and the best way to treat it. There are no FDA approved treatments and most doctors have never even heard of it. There are also a lot of patients who are significantly worse off than Chris. They have failed every available treatment option and have had life threatening reactions to medications.

PLEASE join us on October 26th (also Alex's birthday) to help us raise money to fight this awful disease and support the families who battle it daily. If you can't join us in person, consider donating to the cause and walking on your own to show support. THANK YOU!

More on the CRMO Foundation:
www.crmofoundation.org
Team Chris - Maryland Walk Members
Kelly Lapides - Donation To Kaila's Komfort/CRMO Foundation
Tui Eversley - Walk-A-Thon/5K
Ann Eversley - Walk-A-Thon/5K
Lynnea Smith - Donation To Kaila's Komfort/CRMO Foundation
Myriam Dalbora - Donation To Kaila's Komfort/CRMO Foundation
Jessica Avery - Donation To Kaila's Komfort/CRMO Foundation
Vio Russo - Walk-A-Thon/5K
Amanda Holland - Walk-A-Thon/5K
Angela Ryan - Donation To Kaila's Komfort/CRMO Foundation
Allison Pham - Walk-A-Thon/5K
Emily Pham - Walk-A-Thon/5K
Brendon Pham - Walk-A-Thon/5K
Trang Dinh - Walk-A-Thon/5K
Long Pham - Walk-A-Thon/5K
Graham Stelzer - Walk-A-Thon/5K
Reid Stelzer - Walk-A-Thon/5K
Bradley Stelzer - Walk-A-Thon/5K
Emily Stelzer - Walk-A-Thon/5K
Silvia Luperdi - Walk-A-Thon/5K
Adriana Benavides - Walk-A-Thon/5K
Eileen Benavides - Walk-A-Thon/5K
Gina Blake - Walk-A-Thon/5K
Katherine Blake - Walk-A-Thon/5K
Lucas Urbas - Walk-A-Thon/5K
Sandra Da Silva - Walk-A-Thon/5K
Ramon Urbas - Walk-A-Thon/5K
Aaron Urbas - Walk-A-Thon/5K
Heidi Kern - Donation To Kaila's Komfort/CRMO Foundation
Joshua Fine - Walk-A-Thon/5K
Sandra Amanuel - Walk-A-Thon/5K
Yared Amanuel - Walk-A-Thon/5K
Tanya Besiryan - Walk-A-Thon/5K
Stacey Rogovoy - Walk-A-Thon/5K
Pam Pierpoint - Walk-A-Thon/5K
Anonymous - Donation To Kaila's Komfort/CRMO Foundation
Santiago Verduguez - Walk-A-Thon/5K
Luis Verduguez - Walk-A-Thon/5K
Bonnie King - Donation To Kaila's Komfort/CRMO Foundation
Jay Cormier - Walk-A-Thon/5K
James Cormier - Walk-A-Thon/5K
Will Cormier - Walk-A-Thon/5K
Elizabeth Cormier - Walk-A-Thon/5K
Daniel Mitchell - Walk-A-Thon/5K
Timothy Mitchell - Walk-A-Thon/5K
Jun Mitchell - Walk-A-Thon/5K
Luke Marshall - Walk-A-Thon/5K
Elyas Marshall - Walk-A-Thon/5K
Sana Chehimi - Walk-A-Thon/5K
Jason Marshall - Walk-A-Thon/5K
Kellan Erdheim - Walk-A-Thon/5K
Maeryn Erdheim - Walk-A-Thon/5K
Kristin Erdheim - Walk-A-Thon/5K
Asher Erdheim - Walk-A-Thon/5K
Sam Erdheim - Walk-A-Thon/5K
Jeff Hall - Walk-A-Thon/5K
Leo Hall - Walk-A-Thon/5K
Evie Hall - Walk-A-Thon/5K
Georgia Hall - Walk-A-Thon/5K
Angela Grillo - Walk-A-Thon/5K
Morgan and Taylor Pemberton - Donation To Kaila's Komfort/CRMO Foundation
John Oehler - Walk-A-Thon/5K
Alex Oehler - Walk-A-Thon/5K
Crista Oehler - Walk-A-Thon/5K
Griffin Oehler - Walk-A-Thon/5K
Marci Reich - Donation To Kaila's Komfort/CRMO Foundation
Jodi Oliveri - Walk-A-Thon/5K
Jonas Trebules - Walk-A-Thon/5K
Randall Cromer - Donation To Kaila's Komfort/CRMO Foundation
Anonymous - Donation To Kaila's Komfort/CRMO Foundation
Anna Gray - Walk-A-Thon/5K
Jen Gray - Walk-A-Thon/5K
Charlie Gray - Walk-A-Thon/5K
Christopher Boutlier - Donation To Kaila's Komfort/CRMO Foundation
Lexi Hauer - Walk-A-Thon/5K
JP Hauer - Walk-A-Thon/5K
Jimmy Hauer - Walk-A-Thon/5K
Anne Hauer - Walk-A-Thon/5K
Charlotte Gray - Walk-A-Thon/5K
Seth Denbo - Walk-A-Thon/5K
Catharine Gray - Walk-A-Thon/5K
Maddie Walsh - Walk-A-Thon/5K
Melissa Walsh - Walk-A-Thon/5K
Brady Walsh - Walk-A-Thon/5K
Jon Walsh - Walk-A-Thon/5K
Anonymous - Walk-A-Thon/5K
Anonymous - Walk-A-Thon/5K
Nuala Grady - Walk-A-Thon/5K
Meredith Grady - Walk-A-Thon/5K
Erin Moser - Walk-A-Thon/5K
Anne Moser - Walk-A-Thon/5K
Bruce Moser - Walk-A-Thon/5K
Sierra Fleisher - Walk-A-Thon/5K
Stacia Fleisher - Walk-A-Thon/5K
David Cromer - Walk-A-Thon/5K
Andrew Douville - Walk-A-Thon/5K
Alex Douville - Walk-A-Thon/5K
William Douville - Walk-A-Thon/5K
Jennifer Douville - Walk-A-Thon/5K
Aiden Lyons - Walk-A-Thon/5K
Paul Murray - Walk-A-Thon/5K
Abbey Murray - Walk-A-Thon/5K
Grace Murray - Walk-A-Thon/5K
Sean Murray - Walk-A-Thon/5K
Stacey Murray - Walk-A-Thon/5K
Alexander Nguyen - Walk-A-Thon/5K
Kyle Nguyen - Walk-A-Thon/5K
Adyn Nguyen - Walk-A-Thon/5K
Dangkhoa Nguyen - Walk-A-Thon/5K
Ammie Roseman-Orr - Walk-A-Thon/5K
Judith Gordon - Donation To Kaila's Komfort/CRMO Foundation
Cynthia Petty - Walk-A-Thon/5K
Chris Theos - Walk-A-Thon/5K
Alex Theos - Walk-A-Thon/5K
Sarah Theos - Walk-A-Thon/5K
Team Chris - Maryland Walk has raised $5,465.00.



If you are the owner of this homepage, please login to make changes. Use the username and password you created or used when you registered for the event associated with this homepage.
---
When this page loaded, the official time was 2:01:24 AM EDT.