15th Annual Courage Ride - Bustin it for Bob 2019
Saturday, August 17, 2019
in Iowa City, IA at Big Grove Brewery & Taproom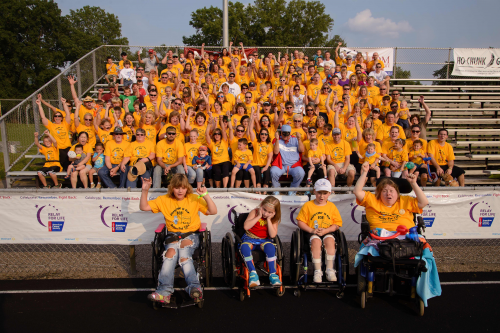 Hi friends!

In August 2014, Team: Bustin' It for Bob showed up at the Relay for Life in La Crosse. It was an awesome display of support and love as we cheered on Bob's fight against soft-tissue sarcoma.

Who would have guessed that just one year later, I would be standing at that same Relay for Life with a few friends, but with Bob just a memory in our hearts?

In August 2015, some of us decided to take Bustin' It for Bob on the road. We heard about the Courage Ride in Iowa, and we wanted to join with others who are fighting sarcoma cancers and remembering their loved ones too. This year - 2019 - will be OUR 5th Annual Courage Ride, although it is the Courage Ride's 15th Anniversary.

Join us for a beautiful day of biking and memories. This year, there are new routes and a new start/finish point. If you can't join us in person, then you can still show your support with a donation to the Courage Ride. All money benefits sarcoma research at the University of Iowa.

See you in August!!
Love,
Katie
Bustin it for Bob 2019 Members
Ron and Donna Berkhof - Donation Only
Janet Reif - Donation Only
VIrginia Wintersteen - Entry - Ages 13 & Up
Molly McKelley - Donation Only
Tom Reif - Donation Only
Luke and Missy Warth - Donation Only
Emily Farmer, Morgan Farmer - Entry - Ages 13 & Up
Alicia Dusza - Entry - Ages 13 & Up
Matt Teusink, Jen Teusink - Entry - Ages 13 & Up
Eric Oyen - Entry - Ages 13 & Up
Carol Moriello - Entry - Ages 13 & Up
Darin Damstra, Kristin Damstra - Entry - Ages 13 & Up
Brad Kegler, Ann Kegler - Entry - Ages 13 & Up
Deb Anderson, Doug Anderson - Entry - Ages 13 & Up
Justin List - Donation Only
Luke Bennett - Entry - Ages 13 & Up
Steve Klein, Becky Klein - Entry - Ages 13 & Up
Andy Weiss, Calison Weiss - Entry - Ages 13 & Up
Katie Volz - Entry - Ages 13 & Up
Bustin it for Bob 2019 has raised $605.00.



If you are the owner of this homepage, please login to make changes. Use the username and password you created or used when you registered for the event associated with this homepage.
---
When this page loaded, the official time was 9:33:27 PM EST.