CCVI Trolley Run - 31st Annual - Magic Panthers
Sunday, April 28, 2019
in Kansas City, MO at 75th and Wornall Road - Sunday, April 28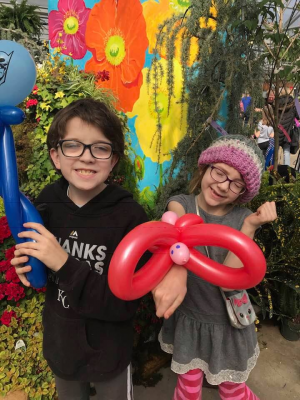 These two goofballs are both proud CCVI graduates, and they decided we needed to rename our team to celebrate them both--so Eddie's Entourage has become Magic Panthers!

CCVI has made a huge difference in our lives, from preparing both of our kids to be successful to giving us life-long friends and resources. We try to give back to this organization that has given us so much by walking in each year's Trolley Run. We hope you'll be able to join us this April!!
Contributors on Behalf of Magic Panthers
Donors
Pamela Strahan - Make a Donation
Tammy Anderson - Make a Donation
Donors total: $0.00
Event Participants
James Anderson, Mary Strahan - Children's Center for the Visually Impaired Family Team Member
Rosie Strahan-Anderson, Eddie Strahan-Anderson - Kids' Trolley Run (ages 10 and under)
Event Participants total: $0.00


If you are the owner of this homepage, please login to make changes. Use the username and password you created or used when you registered for the event associated with this homepage.
---
When this page loaded, the official time was 7:28:50 AM EDT.