FRESH 15 - 2020 - Camp Gladiator
Saturday, March 7, 2020
in Tyler, TX at FRESH by Brookshire's - 6991 Old Jacksonville Hwy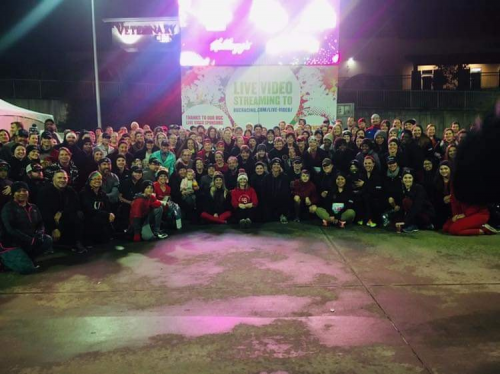 CG WUT WUT!!
Camp Gladiator Members
Wade Holland
Janeth Slaughter
Rosie Monsivas
Danielle Pena
Jonathon Brown
Molly Brown
Emma Cook
Casie Brown
Juan Garcia
Nelida Garcia
Tiffany Villanueva
Drew Smith
Sarah Sanchez
Adriana Rincon
Kirstie Harrison
Brooke Benson
Austin Derby
Joey Myers
Amy Myers
Evelyn Burda
Genny Rodriguez
Caitlin Colliver
Jennifer Sudduth
Kristi Dougay
Selena Saenz
Brooke Bates
Carolyn Bockmon
Spencer Bradbery
Dee Randall
Katrina Randall
Gary Derby
Denise Derby
Melissa Andrews
Hayley Eberlan
James Martinez
Leigh Harding
Justin LeBlanc
Terri Miller
Logan Everett
Jessica Saenz
Sarah Clark
Stacy Fontineau
Lorin Davis
Wendy Williams
Jason Cadenhead
Nicole Cadenhead
Heather Tolliver
Malachi Tolliver
Dean Stewart
Ayden Serrato
Kimberly Cook
Jamie Hart
Dolores Surlet
Katie Gerety
Erika Wang
Merlyn Minter
Chris McCarty
Diana Pritchard
Sara Myers
Alanna Stewart
Casey Johnson
Janeth Tarango
Lauren Hightower
Dee McDonald
Patti Williams
Lisa Hasz
Sam Hasz
Henry Hasz
Jonah Hasz
Bridget Hasz
Rita Alumanah
Teddie Thompson
Teresa Rodriguez
Karly McGraw
Kayla Hartweg
Jackelin Preciado
Karina Leon
Melissa Colwell
Kathleen Newsome
Hannah Breeden
Jennifer Hart
Barbie Brown
Patti Williams
Jeffery Lawrence
Annie Lawrence
Luke Marsh
Robert Templin
Cherie Templin
Kim Berryhill
Jelaine Smith
Jason Goodwin
Christy Winship
Shelly Strickland
Jullissa Silva
Milton Valencia
Cindy Bunch
Barry Bunch
Adriane Winfield
Elaine Hageman
Chris Winfield
Brian Cook
Nick Hardy
Tina Fortner
Casey Cook
Kim Hardy
Stephanie Alvey
James Brousseau
Kristy White
Kennadi Neal
Rachelle Parker
Aaron Bewley
Cindy Bewley
Jason LeBaron
Stacia Aylor
Cameron Engel
Sammy Wagner
Traci Wagner
Kelly Davis
Angie Brandon
Maria Davenport
Daniel Meyer
Kathy Meyer
Stephanie Fenter
Amanda Crouse
James Crouse
Amber Trammell
Dee Dee Cottrell
Ricardo Medellin
Jackie Lowe
Kaitlyn Williams
April Berry
Tonya Stephens
Ashlynn Skaggs
Billy Bambrey
Mike Dezern
Angie Delaney
Melissa Snook
Jennifer Serrato
Jorge Ortiz
Christy Dunton
Tashia Cook
Anne Morris
Randal Wilson
Jennifer James
Amy Wilson
Terri Good
Anna Miller
Alli Cormier
Kristin Barnard
Gil Cormier
Elizabeth Hobbs


If you are the owner of this homepage, please login to make changes. Use the username and password you created or used when you registered for the event associated with this homepage.
---
When this page loaded, the official time was 9:47:21 AM EDT.