Alaska Airlines Dawg Dash - Whole U
Sunday, October 14, 2018
in Seattle, WA at University of Washington Campus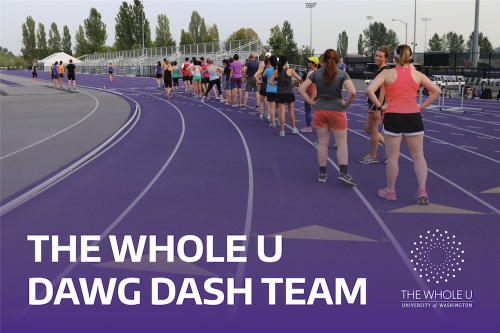 Welcome to the Whole U Dawg Dash Team!

As part of the Whole U team, you'll receive $5 off registration with the code "WHOLEU" through September 12th. You will also receive 6-week training plans to help you feel confident the day of the event. Whether you plan to walk the 5K course or race the 10K for a personal best, we have you covered!

The Whole U will also be hosting a fun training run on Wednesday, September 19th at 5:30 PM at the UW Track. Register here to enjoy the camaraderie of a team as we walk/run and run the track together! All levels are welcome.

The Whole U will email everyone registered before September 3rd the three training plans to choose from. (5K walk/run, 5K run, or 10K run).

Happy running!


Questions? Email wholeu@uw.edu.
Whole U Members
Karen Johnson
Jose Ordones
Jacob Morris
Anna Khoutxaysana
Arthur Tabadero
Syniet Biniam
Russell Yost
Robert Lee
April Burger
Chetana Acharya
Helen Llamado
Rosemary Hoonan
Kathryn Miller
Renae Cruz
Kristi Pimentel
Rosale Meriales
Sean Carlson
Sara Carlson
Katie Kelly
Anthony Eayrs
Sarah Park
Pegah Jalali
Shahryar Doosti
Dan Chang
Benjamin Lopez
Tyler Fox
Jean Oh
Michael Rosenthal
Timothy Gilardi
Lori Kollath
Melinda McRae
Michael Ford
Rianne Peterson
Thai Nguyen
Katherine Wimble
Edna Ramos
Christopher Partridge
Katie Bloom
Hannah Barnett
Swati Rane
Noelle Morrison
Nicole Moore
Steve Berard, Trisha Berard, Jack Berard, Luke Berard
Ariel Sandoval, Carmela Sandoval
If you are the owner of this homepage, you may login to make changes, using the username and password you created or used when you registered for the event associated with this homepage.
---
When this page loaded, the official time was 7:15:21 AM EDT.