Gabriella's 5K Cupcake Run - Maricruz Zarate
Saturday, May 19, 2018
in Selma, TX at Bluebonnet Palace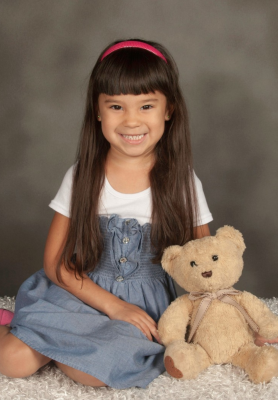 #CupcakeRunSA2018
Have you registered for the 5K Cupcake Run? The goal is to register at least 300 runners. Help make this first event a success! Gather your teams and put on your running shoes!

THE STORY
Gabriella's 5k Cupcake Run and Gabriella's Smile Foundation is named after Gabriella Elise Torres, who was 5 when she battled Diffuse Intrinsic Pontine Glioma (DIPG), a terminal form of brain cancer. She died just 8 days after her 6th birthday on November 7, 2015.

BRAIN TUMOR AWARENESS MONTH
Gabriella's 5k Cupcake Run is the first of its kind here in San Antonio for Brain Tumor Awareness Month, which is in May. The first 5k for pediatric cancer awareness in our city. The foundation is committed to helping families, funding research and raising awareness for DIPG and pediatric brain cancer. To date 29 families have been helped and over $15,000 have been awarded in grants. These grants help families with costs associated with housing transportation and medical costs.

BRAIN TUMOR RESEARCH
A portion of the proceeds from the 5k Cupcake Run will go to The Cure Starts Now. Since 2007, The Cure Starts Now has been one of the leaders in non-government funding of pediatric brain cancer research and a pioneer to the efforts to find the homerun cure to all cancers, starting with DIPG.

GABRIELLA'S DREAM
"Gabriella had a dream while she was battling DIPG that our family had a lot of money and we were helping families that needed money," said Isabel Torres, Gabriella's mother. "We knew we would be helping families in need for the rest of our lives. It's Gabriella's legacy."

Register today for the 5k cupcake run/ walk or please make a donation to this fundraiser. Help raise awareness and find a cure for childhood cancer. Thank you.
Maricruz Zarate Members
Robert Chapa
Roxanne Barrera
Maricruz Zarate
Maricruz Zarate has raised $80.00.



If you are the owner of this homepage, please login to make changes. Use the username and password you created or used when you registered for the event associated with this homepage.
---
When this page loaded, the official time was 8:47:36 AM EST.