Sickle Cell 5K Walk/Run - 22nd Annual - Speed of Light
Saturday, June 23, 2018
in Indianapolis, IN at Riverside Park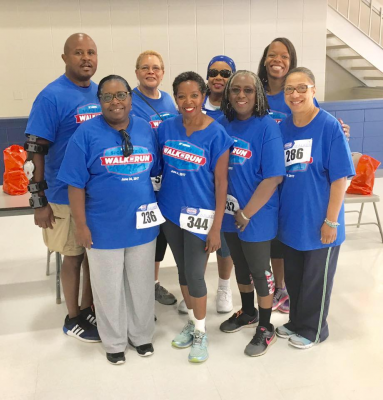 Dear friends,

I would sincerely appreciate your support by joining me and others on team Speed of Light and/or by donating to the 22nd Annual Sickle Cell 5K Walk/Run on Saturday, June 23. As always, your support is greatly needed.

Hope to see you on my team!

Re'Nita O'Bannon
Team Captain
Speed of Light
Speed of Light Members
David Hampton - 5K Group or Team Registration
Toni Colbert - 5K Group or Team Registration
$201.00 from Cornell Burris - Contribute to a Fundraising Team
$300.00 from Cornell Burris - Contribute to a Fundraising Team
$65.00 from Lwcc Members - Contribute to a Fundraising Team
$20.00 from SG Ronald Coe - Contribute to a Fundraising Team
$20.00 from Patricia Pate - Contribute to a Fundraising Team
Terri Rainge - Contribute to a Fundraising Team
$20.00 from Terri Rainge - Contribute to a Fundraising Team
$30.00 from Loretta Thomas - Contribute to a Fundraising Team
$7.00 from Tony Wright - Contribute to a Fundraising Team
$20.00 from Donna Brewer - Contribute to a Fundraising Team
Charlotte Tslley, Lynn Martin, Tjai Downs, Diana Bush-Harris - 5K Group or Team Registration
$10.00 from Michael Saahir - 5K Group or Team Registration
Hope Hampton - 5K Group or Team Registration
Dawn Holt - 5K Group or Team Registration
Keith Young, Allison Young - 5K Group or Team Registration
Paula Wilcox, Eric Wilcox - 5K Run/Walk for ages 13 and older
Marlo Smith - 5K Group or Team Registration
Karlin Dunlop - 5K Group or Team Registration
Sheriee Ladd - 5K Group or Team Registration
Marya E Jones - 5K Group or Team Registration
Eric Parker - 5K Group or Team Registration
Re'Nita O'Bannon - 5K Group or Team Registration
Iris Embry, Deborah Fields, Claryce Burris, Tamara Blanchard - 5K Group or Team Registration
Iris Embry, Deborah Fields, Claryce Burris, Tamara Blanchard - 5K Group or Team Registration
Speed of Light has raised $693.00.



If you are the owner of this homepage, please login to make changes. Use the username and password you created or used when you registered for the event associated with this homepage.
---
When this page loaded, the official time was 6:35:01 AM EDT.