Superhero Run for Sight 2018 - Ruby's Stars
Sunday, May 6, 2018 in St. Louis, MO at Forest Park - Festival Plaza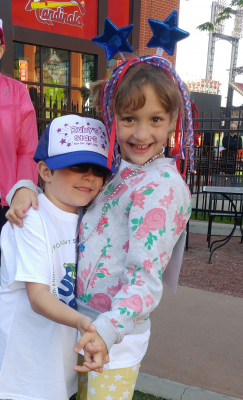 Hello Stars!
It's finally spring, which to us means getting outside and enjoying the warmer weather. Run for Sight is at Forest Park this year so will be a beautiful walk/run. We have had great success for the past 2 years and hope that this trend continues! Please join us for the walk, run with Andrew, or contribute to our team. We are all Ruby's Stars!

As many of you know, the Delta Gamma Center has been a vital support for Ruby and our whole family these past few years. It is a safe place where she is not judged for her disabilities, instead encouraged and focused on her abilities. We feel that the kids and families encourage and foster her positive attitude through challenges and are amazing examples for her that being blind or visually impaired is not scary or cause for sadness. These kids are truly inspiring!

This year Ruby moved up to Challengers 2 (the big kid) GRADS group. In addition to the fun activities there is a focus on team work, leadership, and independence. She went snow skiing at Powder Valley in Eureka, MO over the winter, and recently spent the weekend at Innsbrook overnight and Horseback Riding with her GRADS group. Part of the big kid responsibilities on this trip was helping to prepare meals. Ruby proudly told us she helped chop vegetables, something we did not think she was ready for at our house. It has also been great to see her mentor some of the younger kids, encouraging & assisting them.

Ruby's favorite new program she joined this year is the Tandem biking club! They meet once a week over the summer and ride for about 2 hours at various parks in the area. She gets to enjoy the wind in her hair while learning a great deal about teamwork. The captains are awesome and inspire her to use "Ruby Power!" to get up the challenging hills. They were the subject of a story on KMOV last year (look for the pink helmet!):
www.kmov.com/story/35667134/imagine-a-better-st-louis-delta-gamma-center-offers-program-for-visually-impaired-children

While we benefit from the school-aged services, DGCkids offers so much more. Starting at infancy they have a very robust early intervention program, as well as great family support services & free vision screenings for kids. Check out their site for more info:
dgckids.org/

Please help support such a wonderful place with your generous donations, and we hope you can join us on the 6th!
Contributors on Behalf of Ruby's Stars
Donors
Ruby & Elio's Lemonad Stand! - Make a Donation
Linda Bond - Make a Donation
Angel Moore - Make a Donation
Lori and Ken Heise - Make a Donation
Robert Martin - Make a Donation
Katherine Kinsey - Make a Donation
Debbie Henry - Make a Donation
Donors total: $647.50
Event Participants
Katherine Perry - Individual and Team Registration
Kamille Jefferson, Kizaar Jefferson, Lisa Jefferson - Individual and Team Registration
Anonymous - Individual and Team Registration
Debbie Henry - Individual and Team Registration
Joy Raccagno-Bond, Elio Bond, Ruby Bond, Andrew Bond - Individual and Team Registration
Event Participants total: $305.00


Ruby's Stars has raised $952.50.
Ruby's Stars has a goal of raising $2,000.00.

progress: 47.63%




If you are the owner of this homepage, please login to make changes. Use the username and password you created or used when you registered for the event associated with this homepage.
---
When this page loaded, the official time was 7:39:19 AM EDT.