Superhero Run for Sight 2018 - Superhero Dad Matt Creath
Thursday, May 10, 2018
in St. Louis, MO at Forest Park - Festival Plaza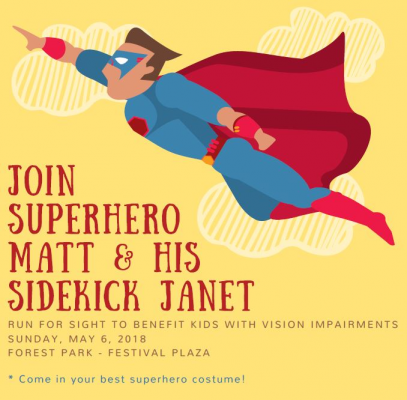 Who's the superhero in your family?

In ours it's "The Daddy" - aka Superman Matt Creath, the one who comes to the rescue faster than a speeding bullet, day or night, fixing everything from broken cars to flat tires, leaky faucets to overflowing toilets, technology troubles to broken hearts and more! When life throws us a curve ball, we all need a superhero to help get us through unexpected challenges. At our home my husband Matt is Superman!

Working at the Delta Gamma Center I've met many superheroes. They come in all shapes, sizes and ages. They're teachers of the visually impaired and therapy professionals helping children learn how to use even the tiniest bit of vision along with all their other senses to learn the skills needed to be successful in school and life. At Delta Gamma Center an incredible team of program superheroes help all of us see possibilities in every child.

Please join me and my family - including Superman Matt in supporting Delta Gamma Center, by making a donation or joining our Run for Sight team. Every dollar helps!
Contributors on Behalf of Superhero Dad Matt Creath
Donors
Janet Creath - Make a Donation
Donors total: $50.00
Event Participants
Julie Creath - Individual and Team Registration
Heather Bond - Individual and Team Registration
Harrison Bond - Individual and Team Registration
Event Participants total: $75.00
Other
Tom Dunn - T-shirts Only
Other total: $10.00


Superhero Dad Matt Creath has raised $135.00.
Superhero Dad Matt Creath has a goal of raising $500.00.

progress: 27.00%




If you are the owner of this homepage, please login to make changes. Use the username and password you created or used when you registered for the event associated with this homepage.
---
When this page loaded, the official time was 4:25:29 PM EDT.