Warrior Run: The Race For Life - General Donation to Warrior Run
Tuesday, January 1, 2019
in Mariemont, OH at Bell Tower Park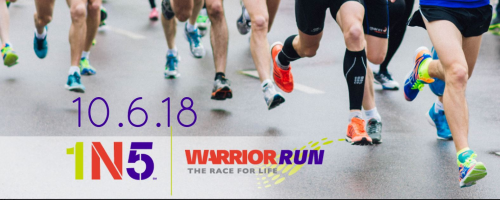 In 2008, Jim Miller, a devoted husband, and father, an avid runner, loyal friend, and lifelong Mariemont resident died by suicide. His loved ones had no idea he was suffering. In order to honor his life and spirit, Jim's family started 1N5, a non-profit focused on mental health education and advocacy. 1N5 works to ensure that all individuals know how to recognize the signs and symptoms of mental illness and suicidality focusing efforts on youth in kindergarten through college, with the belief that prevention and early intervention are most effective and impactful.

It is no secret that our society is facing a mental health crisis. Despite this, compared to physical health, so little is commonly known about mental illness, and it is rarely openly discussed. 1N5 is changing that. As Nancy Eigel-Miller, Executive Director, states, "People need to know it can happen to anybody. If we donít understand what weíre looking at itís going to continue to happen. More people are going to die. Retrospectively, there were signs in my husbandís case and I just didnít know what they were. We need to start the conversation.Ē

Through the support and funding of invested community members like you, 1N5 has now started mental health programming in all five local major universities, 15 high schools, and 7 elementary schools. We ask that you donate what you can to support the continuation and expansion of 1N5's work so that no family needs to suffer the loss of a loved one to suicide.
General Donation to Warrior Run Members
$25.00 from Jill Welch - Contribute to a Team
$10.00 from Heather Salomonis - Contribute to a Team
$25.00 from Kylee Thiel - Contribute to a Team
$25.00 from Andrew Thiel - Contribute to a Team
$5.00 from Natalie Cimpello - Contribute to a Team
Alexis Koenig, Zack Koenig, Nicole Koenig, Suzanne Bischoff - Team or Group Registration (5K or 1 Mile)
Emily Grizzell - 5K Participant
General Donation to Warrior Run has raised $90.00.



If you are the owner of this homepage, please login to make changes. Use the username and password you created or used when you registered for the event associated with this homepage.
---
When this page loaded, the official time was 7:39:31 PM EDT.