Gabriella's 5K Cupcake Run - TeamMayra
Saturday, May 19, 2018
in Selma, TX at Bluebonnet Palace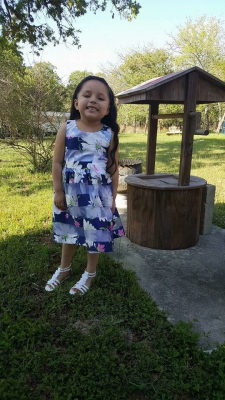 Our names are Ashlie, Gabriel and June Salinas the parents and sister of Mayra Salinas. We will be participating in The Gabriella's Smile Foundation 5k Cupcake Run on May 19th 2018 to help raise money towards research for a cancer cure and grants that will help out other families with grants for everyday financial help while battling cancer as well.

DIPG also known as DIFFUSE INTRINSIC PONTINE GLIOMA is a very deadly disease that most children between the ages of 5-11 have an average of 9 months to survive. No parents should ever have to hear those words "Your Child Has Cancer" but most of all " A Cancer With No Cure".

OUR BEAUTIFUL ANGEL IN HEAVEN MAYRA fought bravely for 8 months and in her memory we are registering as TEAM MAYRA.

PLEASE TAKE TIME TO CONTRIBUTE or REGISTER. WE WILL NEVER GIVE UP ON OUR KIDS AND FIGHT TO THE END UNTIL A CHANGE IS MADE TOWARDS FUNDS FOR DIPG RESEARCH OR A CURE.
TeamMayra Members
June Salinas
Manuel Galvan
Briana Vigil
Christalina Avalos
Jeremiah Holguin, Jennett Holguin
Joseph Sanchez, Suzanna Sanchez
Noah Garza
Nehemiah Holguin
Samantha Talley
Alyana Holguin
JR Bowen
Tiffany Hernandez
Ramon Holguin, Lydia Holguin
Jacob Holguin, Briana Vigil
Gabriel Salinas jr
Ashlie Salinas
Gabriel Salinas, Ericka Salinas
TeamMayra has raised $280.00.



If you are the owner of this homepage, please login to make changes. Use the username and password you created or used when you registered for the event associated with this homepage.
---
When this page loaded, the official time was 11:36:46 PM EST.