24th Annual Dash for Dignity - Team Taylor Dobbs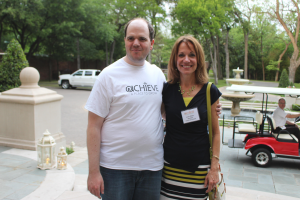 Dear Friends,

Taylor has been a client at Achieve for the last seven years. I have seen Taylor grow immensely in maturity, responsibility, and social skills, I believe in large part because of the opportunities provided to him as a client at Achieve. Taylor goes to work every day and earns a paycheck just like his family and others that he admires.
Taylor has also become and Achieve Ambassador. He represents Achieve at fundraising and social events, like our Top Golf event, and meets people like you who are attending those events. Taylor is a little shy, but is growing in his social skills because of this program.
I hope to see each of you at the upcoming Dash for Dignity on October 7th. Not only does it promise to be our best Dash ever, it will also be a wonderful opportunity for those who attend to see a small glimpse of the great work that is being done by this organization for an often forgotten group of people.

I appreciate each of you greatly,

Leslie


Want to learn more about Achieve, the Dash, or the What Can You Do Campaign? Click the logos below to read on.


Contributors on Behalf of Team Taylor Dobbs
Leslie Miller - Donate to Achieve
Greg Master - Donate to Achieve
Gary and Jo Ann Krafft - Donate to Achieve
Craig Fisher - Donate to Achieve
Sue Benoy - Donate to Achieve
John Spieker - Donate to Achieve
Linda Potts - Donate to Achieve
Chad Conn - Donate to Achieve
Carol Mathus - Donate to Achieve


Team Taylor Dobbs has raised $1,375.00.
Team Taylor Dobbs has a goal of raising $2,500.00.

progress: 55.00%




If you are the owner of this homepage, please login to make changes. Use the username and password you created or used when you registered for the event associated with this homepage.
---
When this page loaded, the official time was 4:38:26 PM EDT.