IMT Des Moines Marathon 2017 - Team Red, White & Blue
Sunday, October 15, 2017 in Des Moines, IA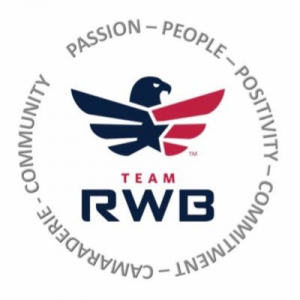 Team RWB's mission is to enrich the lives of America's veterans by connecting them to their community through physical and social activity.

We accomplish this by creating quality relationships and experiences that contribute to life satisfaction and overall well-being.

Through our Chapter and Community Program we connect with our members in several ways.

Our Chapters deliver consistent, local opportunities for veterans and the community to connect through physical and social activity. They host regular fitness activities, social gatherings, and community service events, and facilitate building strong local connections with other members and the community.

www.teamrwb.org/
Contributors on Behalf of Team Red, White & Blue
Ken Brown - IMT Des Moines Marathon
Marci Williams - IMT Des Moines Marathon
Heather Yackle - IMT Des Moines Marathon
Matthew Miller - IMT Des Moines Marathon
Matthew Flowers - IMT Des Moines Half Marathon
Anna Flowers - IMT Des Moines Half Marathon
Joanne Radeke - IMT Des Moines Half Marathon
Graciela Orantes - IMT Des Moines Half Marathon
Kyle Michel - IMT Des Moines Marathon
Team Red, White & Blue has raised $0.00.
Team Red, White & Blue is a sub-group of * No Team or General Donation..


If you are the owner of this homepage, please login to make changes. Use the username and password you created or used when you registered for the event associated with this homepage.
---
When this page loaded, the official time was 5:18:23 AM EDT.