CCVI Trolley Run - 28th Annual - Benninghoven Knights
Sunday, April 24, 2016
in Kansas City, MO at 75th and Wornall Road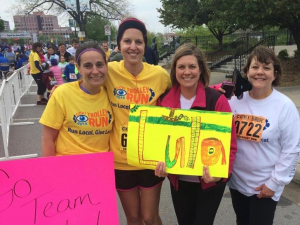 Welcome, Benninghoven Knights! Thank you for considering signing up for this awesome 4 mile run/walk benefitting The Children's Center for the Visually Impaired.

By registering for this team, you are joining the Benninghoven Knights family team in support of one of our teachers, Mrs. Arndt, and her daughter, Lula, who receives vision therapy from CCVI.

We hope that any and all students and their families will consider joining us. Our Benninghoven Run Club will be training for this run,but participation in the Trolley Run is optional due to cost and size of this public event.

Registration Prices:

Early Bird (through Feb. 26): $35
Feb. 27-Apr 1: $40
Apr. 2-Apr. 23: $45
Apr. 24 (Race Day): $50

Everyone who registers before Friday, March 25, 2016 at 5:00 p.m. CDT will receive a personalized Benninghoven Knights T-shirt, but registration is open until race day, April 24th.

Packets will be delivered to Benninghoven the Friday before the race (Apr. 22nd) for all those signed up in the Benninghoven Knights family team before April 20th. Otherwise, families will need to coordinate their own packet pick up. All other registration and participation will be coordinated through CCVI Trolley Run staff.

Most importantly, students who register for this event need to sign-up with a parent or an adult chaperone. There will not be Benninghoven staff available to supervise runners. With almost 9,000 in attendance last year, we recommend that you form small groups, stick together, and come up with a plan in case you get separated. We want this is a safe and fun family event!

Please see trolleyrun.org for more information. We hope to see you in April!
Contributors on Behalf of Benninghoven Knights
Event Participants
Anonymous - Children's Center for the Visually Impaired Family Team Member
Jeff Sickels - Children's Center for the Visually Impaired Family Team Member
Event Participants total: $5.00
Benninghoven Knights has raised $5.00.
Benninghoven Knights is a sub-group of Lula's Warriors.


If you are the owner of this homepage, please login to make changes. Use the username and password you created or used when you registered for the event associated with this homepage.
---
When this page loaded, the official time was 2:42:02 PM EST.