2021 Bop to the Top Virtual Stair Climb & 5k
in United States

Stair Climb - Individual
Shirts not guaranteed to those registering after Sunday, February 21.

Online registration is closed for this category.




---

Virtual 5k - Individual
Shirts not guaranteed to those registering after Sunday, February 21

Online registration is closed for this category.




---

Withdrawn

Online registration is closed for this category.




---
| | | |
| --- | --- | --- |
| | | About the Virtual Bop to the Top |
The 38th annual Bop to the Top has gone VIRTUAL for 2021! Due to safety issues surrounding the ongoing COVID-19 pandemic, climbing the stairs of the OneAmerica Tower are unfortunately not an option. Instead, we are letting you Bop the ENTIRE MONTH OF FEBRUARY, and at a safe time and location of your choosing!

Bop to the Top is normally a 780 step and a 500 foot vertical climb. For 2021 though, we are letting you choose when and how much you Bop! Participants are encouraged to climb as many flights OR as many minutes as you can to during the entire month of February! If you want to stick to a 36 floor / 780 step climb, that is fine, too! There is even a Virtual 5k run/walk option!

Participants who register BEFORE FEBRUARY 21 will be guaranteed a great looking shirt! Shirts will be mailed to the address you register with, so triple check your address when you sign up!

We are proud to continue our support of Riley Children's Foundation! Since 1984, over $750,000 has been donated, and we want to keep growing that total!

DON'T LET THE PANDEMIC DISCOURAGE YOU FROM BOPPING IN 2021! Take this unique challenge, and invite friends, family members and your co-workers to get involved!
| | | |
| --- | --- | --- |
| | | Ways to "Bop to the Top" in 2021 |
We wish this event could be held at the OneAmerica Tower, but competing virtually means you can get creative with your participation! AND, you have the entire month of February to do it!

If you want to get competitive, you can still submit your results! But, it's up to YOU to keep track of your performance! (See Submit Your Results section, below)

Here are some examples for how you can participate:
- Step Mill machine
- Stair climb machine
- Jacob's Ladder machine
- Outdoor park stairs
- Parking garage stairwell
- Indoor facility that will permit you*
- NEW Virtual 5k option!!! (see section below)

For additional information on ways to Bop, join us for our Zoom Meet & Greet on January 30! See the Zoom section below!

*Gaining permission to use any public/private facility is the responsibility of the registrant.
| | | |
| --- | --- | --- |
| | | Virtual 5k Option! |
Are stairs not accessible to you? NO PROBLEM! New for 2021, we are allowing registrants to sign up for the Virtual 5k category!

You can complete your 5k run/walk anytime during the month of February.

Submitting your time is completely optional. Our top priority is for you to have fun!
| | | |
| --- | --- | --- |
| | | Zoom Meet & Greet - January 30 @ 11:00am |
Join us for a special Zoom Meet & Greet on January 30, at 11:00am! We will give a brief history of the event, discuss ways to Bop virtually this February, and highlight some of our upcoming events! Then, we'll open it up for you to visit with some of our sponsors.

You can join this Zoom session at 11am on January 30th by clicking here - zoom.us/j/96311228097
| | | |
| --- | --- | --- |
| | | Participant Shirts |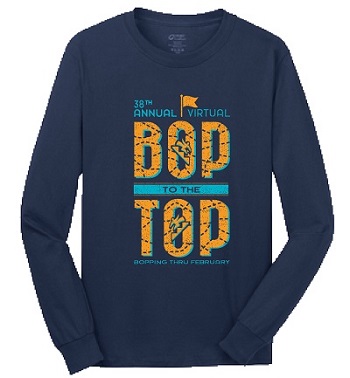 Like normal, participants will receive a great looking Long Sleeve T-shirt, just for signing up!

Starting mid-February, shirts will be mailed to the address you registered with, and will NOT be re-shipped if sent to an incorrect address! THE DEADLINE TO UPDATE/CONFIRM YOUR ADDRESS is February 14th! E-mail Jason@TuxBro.com, if necessary.

Please note: Shirts are NOT guaranteed to those that register after Sunday, February 21 at 11:59pm! We will do our best to make sure every registrant receives a shirt. Be sure to sign up well in advance!
| | | |
| --- | --- | --- |
| | | In-Person Packet Pickup - CANCELLED |
We were exploring the possibility of hosting an in-person Packet Pickup, but were unable to make arrangements.

All shirts will be mailed to the address you registered with. We are not responsible for shirts mailed to an incorrect address.

If you need to confirm the address you entered, e-mail Jason@TuxBro.com
| | | |
| --- | --- | --- |
| | | Submit Your Results! |
Want to be listed in this year's Virtual Bop to the Top results? It's easy, and 100% optional! Just keep track of your results during February, and submit them any time before March 7.

How to submit your stair climb(s):
You can continually submit your CURRENT TOTAL for FLIGHTS CLIMBED or MINUTES CLIMBED as they increase throughout February. Or, you can wait until you're finished participating and submit them ONCE.

If you are counting STEPS, assume 12 steps/flight -----> Total Steps / 12 = Total Flights

To submit, click the button at the top that says Submit your Total Minutes or Flights Climbed.

Ex. If you do 50 flights between Feb 1 - 7, whenever you choose to submit those, enter 50. Then, if you do 20 flights over the next week, you would enter 70 the next time you submitted results.

How to submit your 5k:
You only need to submit your 5k time ONCE, however, if you do multiple 5k's, feel free to submit your fastest!

To submit, click the button at the top that says Submit Your 5k Time

Results will be posted on March 8 to www.tuxbro.com/results.html

Because of the circumstances, awards will not be offered for the 2021 event. We apologize for this inconvenience.
| | | |
| --- | --- | --- |
| | | Fundraising for Team Riley |
Bop to the Top is proud to support Riley Children's Foundation! In the 37 year history of this event, Tuxedo Brothers has facilitated the raising of over $750,000 for this wonderful cause!

If you want to collect donations for Riley Children's Foundation, you can set up a personal or corporate fundraising page! Riley Children's Foundation receives 100% of funds raised by individuals, so please consider the difference you can make in a child's life!

Collect donations from your friends, family or co-workers by creating an online giving page at give.rileykids.org/boptothetop2021

Checks can also be mailed to Riley Children's Foundation*

Riley Children's Foundation
Attn: Megan Yates Bohling
30 S. Meridian St, Suite 200
Indianapolis, IN 46204

*Be sure to include 'Bop to the Top for Riley' in the memo.

IMPORTANT: Creating OR joining a Team Fundraising page through Team Riley DOES NOT REGISTER YOU FOR THE EVENT! You must still complete this process through GetMeRegistered.com


| | | |
| --- | --- | --- |
| | | Questions? |
If you have any questions you can check out the event page at www.tuxbro.com or e-mail us at Jason@TuxBro.com!
---
When this page loaded, the official time was 6:46:33 PM EDT.